Gronk is Ready for Sunday's Game Against the Jets
by Kristy Spinelli, BSD Correspondent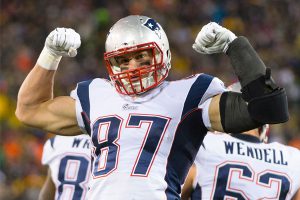 BOSTON – "I'm good to go…ready to play," says Rob Gronkowski in reference to him playing this Sunday in the game against the New York Jets at Met Life Stadium.  The Patriots and the Jets both 3-2-0 in the AFC East.
The New England tight end, who missed playing against the Tampa Bay Buccaneers last week, is suffering a thigh injury and missed practice until just yesterday.   Although  Gronkowski returned to practice yesterday he did not participate fully until today.  Both Tom Brady, with shoulder issues, and Gronk were upgraded from being non-participants on the Patriot's injury report are now listed as "limited participants".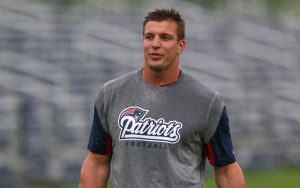 Gronkowski spoke today and said, "Whatever coaches call, or whatever plays they have me in, I'll be ready to roll."  Gronk injured his thigh during the October 1 game against the Carolina Panthers and with the next game being played just days after for Thursday Night Football against Tampa on October 5, it was too quick to be healthy enough to play. He did travel to Florida but sat on the sidelines.
"Unfortunately it was a quick turnaround game Thursday night, and I just wasn't ready to roll.  There was no chance that it could have went.  It is what it is…I took care of myself throughout that whole time, took care of my body, and now I'm ready to play."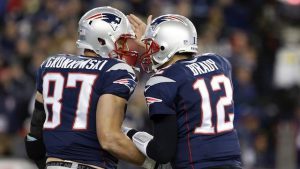 Fans are anxious to see the star duo again on the field together this weekend…especially against the Jets.  The Patriots have two upcoming home games.  On Sunday, October 22nd they host the Atlanta Falcons for Sunday Night Football and then on October 29th, at Gillette for an afternoon 1:00 p.m. game against the Los Angeles Chargers.