On tonight's win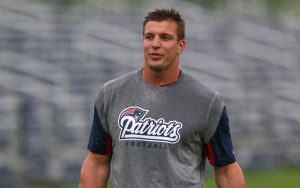 "It felt great. You saw us. That was a big victory. That was a big team win. All three stages, defense, special teams, offense, we all played together. That was huge. We need to win like that and you know it.
On the Patriots' special teams performance
"It's super nice. Whenever you have special teams play like that, took the kickoff to the house, the punt block, it's huge. It helps out the whole team, defensively and offensively. Those plays on special teams are game changers.
On if he felt he scored on a play that was not ruled a touchdown
"I didn't see any replays or anything like that, but did you guys see any time where the ball hit the ground? That's because it didn't. That's why. I put my hand underneath the ball. I know for sure I caught it and I just don't understand why it wasn't a TD. It didn't show [any] evidence of it hitting the ground. I know it didn't. My fingers were underneath it. It tilted up the ball and I knew it was right there, I brought it in, it landed on my forearm, I brought it in and I knew exactly. I went up to [Patriots head] coach [Bill Belichick] and he's like, 'Are you sure?' And I was like, 'I'm sure, man.' I would never say that if I wasn't 100 percent sure because you don't want to lose that kind of trust. I thought I caught it. I know I caught it. My fingers were underneath it.
On continuing to play with Patriots QB Tom Brady
"It's great. It's kind of like the same thing though since I've been here since day one. Nothing's changed with him. He's always fired up. He's always practicing hard. He's always in the meetings. Literally not one thing has changed since I've been here. He's always on top of his games and it's just great. It just keeps you going too, seeing a guy like him just lead us the whole way at where he's at in his lifetime too.
On contributions from Patriots TEs Dwayne Allen and Martellus Bennett
"It's huge. It's great to see those guys contributing like that. The first under with Marty went for like 20-plus yards. It helps out. That's huge. Seeing Dwayne get that TD, I was so happy for him when he got that. It was great to see that and just everyone contributing in our group. [Patriots FB James] Develin had a couple catches. He's part of the tight end group and it's just awesome to see all of us be able to be part of the gameplan like that and all contribute in the passing game and run game
On if the Patriots gameplan was to target running backs and tight ends early
"You always come in with a gameplan. I would say like it's like one percent of the time the gameplan actually goes through the way that you exactly want it to go through, so you just never know what they're going to play on defense. It just goes all with the game flow. Some games, our running backs have like 15 to 20 catches. Then some other games, our receivers [and] tight ends have all the catches. You've just got to play it by ear, how they're playing defense. Tom just does a great job no matter what to find the open guy, if it's from the backfield, if it's a wideout or tight end.