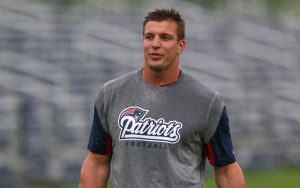 How fun was that one?
It was fun. Coming to Pitt., it's always a football atmosphere. I went to high school here for my senior year, and I remember they are all about the Steelers. They are Steeler-crazy. They are football-crazy around here, which is great. Coming into the stadium here, we knew that it was going to be a great football atmosphere and a great game and it was. It was awesome.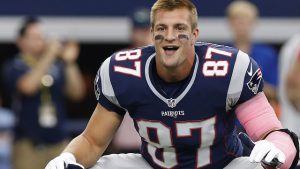 Can you describe that final offensive drive?
There were two minutes left. I knew we had to go down, make a drive and just do what you have to do. If the ball is coming to you, you just have to make some plays. It just went well. Tom [Brady] found me. I made a couple of catches to keep the drive going. Then Dion [Lewis] had a great run to get that touchdown. That was huge – we needed to score. You can bring it all you want down to the end zone, but if you don't score you don't get any points. Dion ran hard. He's been running super hard. For everyone saying how small he is, he's not really that small. He's a beast. He plays big which is a great trait to have for him.
Were you itching to get back on the field after sitting out last week?
Always. I missed the boys. They are always grinding every single week. These guys are my teammates and they are great to be around. I definitely miss them and it's great to be back.
What were your emotions like watching that last defensive play?
The emptions were up and down on that last defensive drive. I can tell you that. On that big catch and run it was like a rollercoaster. Then the first and second down in the red zone. You're down, and then you're up and then you're up again. Your down because you think he catches it, but then the ball pops up in the air and you are like, 'Ohhhhhh,' and then we intercept it. The ride ended very well.
Flexing after his catches.
It was just spontaneous.
How did you feel after that?
I love getting in that zone. It feels good. I wish I could be like that 24-7, every week and every day.
50-50 balls thrown his way during tight coverage.
They are great team. They play hard. They hit hard. They cover well. They play the run well. You have to be ready mentally and definitely physically. They bring it. You're not just going to be open – it's the NFL. You have to make tough catches. When the ball is in the air I just try to do my best to make a play. When you see the ball, you just have to go make a play. You're not going to come down with them all, but you are going to try your hardest.