Q: You're wearing the Zdeno Chara jersey today.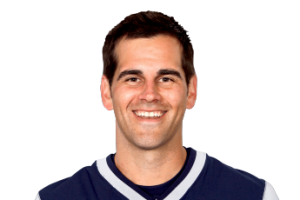 SG: Well, we lift the same weight and we're the same size, so I figured it would work out pretty well.
Q: How much more difficult can it be to kick at this time of year in the cold?
SG: Yeah, I think the hardest thing about playing in the northeast is the weather, especially for kicking, but the advantage that we have is we practice outside every day. And you're out there enough to where you don't know any different, and that becomes the norm. And then for me personally it's … Like other teams that come up here from a warm climate to a cold climate, it's hard for them, hence the same reason why it's kind of harder for us sometimes to go from a cold climate to a warm climate. It's kind of a shock to the body. You don't feel the same, so for me, kicking here, kicking at home, a lot of the playoff games that I've been in have been windy, have been cold, have been rainy. You never know what you're going to get this time of year. I mean, I remember last year the first game against the Ravens was blistering cold and super windy, and the room for error when it comes to kicking a field goal or kicking off or punting or snapping, it shrinks the worse the conditions [get]. But you just have to be ready for the challenge. That's why we practice all week. That's why we practice all year. You don't get scared or shy away from taking advantage of your opportunity when the weather gets bad or the situation gets heightened. You just up the focus and up the concentration and go out there and give it your best shot.
Q: Do you have to scale back your expectations a little bit knowing you might not be able to blast the kick out of the end zone maybe?
SG: A little bit, yeah. Obviously there are some games where the weather is so bad to where you're not going to be going out and trying a bunch of 55-yard field goals, and we do talk about the fact that you can't count on a touchback every kick once it turns November, December here. We've been fortunate with a couple of warm games like the one at the Jets and stuff like that, but touchbacks are no guarantee here past November. So we'll be ready to go. We've got a big returner we're facing off against. He had a huge play in the game, and you know, we keep our focus on that. For me personally, when I go out there to play I focus on one kick at a time, making every kick, and if something goes wrong, mentally getting myself ready to go the next time. If I have a good week at practice and I feel confident and I feel like I'm in rhythm, I feel very confident and under control and good going into the game. It's more nerve-racking watching the game for me than actually going out there and playing in it, which is kind of weird to say. I was getting nervous watching the Wild Card games, and I'm just sitting at home eating dinner. So it's cool, it's exciting. The opportunity – I know a lot of us say this every year – it's an opportunity we don't take for granted. Even though I've been in this opportunity a bunch with this team, you're very fortunate and thankful to be around a group of guys who know how to win and get in this spot, and I'm looking forward to trying to take advantage of it.
Q: What went through your mind when you watched what happened to Blair Walsh?
SG: I actually didn't see it. I was swimming at the pool at the YMCA with my son. Obviously I saw the replays. I didn't see it in the moment. I knew what happened, but you know, when you don't have control over it, it's just nerve-racking to watch. When it's me out there, I'm just focused on what I've got to do to put a good kick out there. It's unfortunate. Personally, I feel really bad for Blair. Professionally, it's part of the game. It's something that happens. We've all been there. I've seen the best of the best miss kicks – miss big kicks, miss short kicks. It happens to everybody. Sometimes just timing is very unfortunate. I was at least proud of the way he stood up there and took it on his shoulders. Like I said, personally, I feel terrible for him. Professionally, it's what we sign up for. You've got to be able to take the good and the bad. He was man enough to do that. And he didn't succeed on the field, but he handled himself with class after the game, which at least he can hang his head on that.
Q: How important are the mechanics and spinning the laces? Regardless of weather, do you always want to go through the same mechanics?
SG: I don't want to get too in depth into that. Everyone is going to have their different opinion. All I know is we work to do the best that we can to get the situation perfect, and all I know is what we've done here is we have, you know, Ryan [Allen] is the best holder in the league. Joe Cardona has done a great job snapping. They put me in position to put a good swing on the ball every time. Obviously there are times where it's not perfect and you have to make do with what you get and you only have a split second to react. And sometimes you're fortunate and you can get away with it, and sometimes you don't. You never really know until you get in that situation. I mean, you see the ball for a split second. Sometimes it can throw you off. Sometimes it doesn't. It just kind of depends on where you're at in that moment.
Q: Have you guys put more on yourselves to improve the special teams performance overall given the lapses over the last month or so?
SG: I haven't been on any other teams, but it seems like we work on special teams a lot more than other teams, at least hearing from what guys on other teams, you know … Before the Philadelphia game, we were working on it probably 10 times more than any other team, and we always will continue to do that. Coach [Bill] Belichick puts a huge emphasis on special teams and takes a lot of pride in us doing well. And I know there might have been some, that one game in particular, but I still think we have really good field position, and that's what special teams is all about. We have scored a lot of points on field goals. We've got a ton of really good players who have made a ton of good plays. I think we probably think more about the positives than the one game where special teams kind of didn't help us out. So we focus on the positives around here. Obviously we would correct everything that goes wrong, but this team always works hard. That's one thing that we can stand up here and not lie about. We work really hard on what we do, and we take advantage of it.