13-2: The Red Sox are 13-2 in their last 15 World Series games, having swept the Cardinals in 2004 and the Rockies in 2007…They also went 4-2 against STL in 2013.
>>> The Yankees are the only other team ever to go 13-2 or better in any 15-game stretch of World Series play (most recently: 1996-2001).
97, 98, 99…: Last night, the Red Sox earned their 99th postseason win of all time, passing the Giants for the 4th-most among MLB franchises…The only teams with 100+ postseason wins are the Yankees, Cardinals, and Dodgers.
>>> The Red Sox have won each of their last 5 postseason games (ALCS Games 2-5, WS Game 1)…The only other years in which they won 5+ consecutive games in a single postseason are 1986 (5 straight), 2004 (8), and 2007 (7).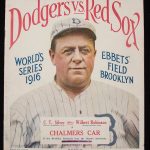 HAVE WE BENINTRODUCED?: Andrew Benintendi went 4-for-5 with a double, an RBI, and 3 runs scored last night…The only other Red Sox to record 4+ hits in a World Series game are Jacoby Ellsbury (4-for-5, 2007 Game 3 at COL) and Wally Moses (4-for-5, 1946 Game 4 vs. STL).
>>> Benintendi is the 1st player ever to record at least 4 hits and score 3+ runs in his 1st career World Series game…He is the 13th player with 4+ hits in a World Series debut.
FOREVER AND DEVERS: Rafael Devers, who turns 22 years old today (born 10/24/96), gave the Sox a 5-3 lead last night with an RBI single in the 5th inning…He is the only player in MLB history to record at least 1 RBI in each of his first 8 career postseason starts (previous record: 6).
>>> Devers has also tied the MLB record for consecutive postseason starts with an RBI at any point in a player's career (8), joining Lou Gehrig (1928-32), Alex Rodriguez (2007-09), and Ryan Howard (2009).
J.D. POWER: Last night, J.D. Martinez recorded an RBI single in the 1st inning and an RBI double in the 3rd…In 10 games this postseason, he has recorded a .343/.444/.571 batting line with 11 RBI (12-for-35, 2 HR, 8 BB, 5 SO).
>>> Martinez has reached base multiple times and recorded at least 1 RBI in each of his last 4 postseason games.
>>> In each of his last 3 games, Martinez has reached base 3+ times and driven in at least 1 run…The only other Red Sox players with a streak like that are Kevin Youkilis (4 games in 2007) and Manny Ramirez (3 games in 2007).