By Kevin Flanagan
BSD Bruins Senior Staff Writer
Former Bruins great Rick Middleton was in his Hampton, New Hampshire home on Tuesday when he discovered he had missed a call from former teammate and current B's president Cam Neely.  "Cam called me around noon yesterday.  Sometimes he calls me about [Bruins] Alumni stuff (Middleton serves as the president of the Bruins Alumni Association) or a golf tournament, or whatever," recalled the B's former captain.
"At the time, I didn't think anything about it.  I missed the call, I was making business calls at the time, so I called him back, and I missed him.  So he called me back, and we were just talking small talk, 'how's it going, how's your summer' this and that.
"Then he said, 'We decided that we are going to retire your jersey this year.' and it hit me like a sledgehammer," said the man known as Nifty to hockey fans all across New England.
"I got a little emotional.  It hit me so quickly, I never thought…well, I guess I have thought about it a little over the years.  Just to be included in that special group of hockey players – Boston Bruin hockey players – I just can't tell you how much of an honor it is," the obviously humbled should be Hockey Hall of Famer added.
Rick Middleton's all-time #NHLBruins ranks:

402 goals — 3rd
496 assists — 6th
898 points — 4th
100 postseason points — 3rd

Nifty recently joined #BruinsAcademy to recap his career and explain where that famous nickname came from: pic.twitter.com/YtT4UYeJT9

— Boston Bruins (@NHLBruins) August 1, 2018
For their part, Neely and the Bruins brass released a statement on Tuesday, announcing the raising to the rafters of Middleton's iconic number 16, which will take place on Thursday, November 29th at the TD Garden before the team's game against the New York Islanders.
"It was a great honor to call Rick today and let him know that he will join the group of retired numbers in the TD Garden rafters," said Bruins President Cam Neely. "As a player and a person Rick embodies what it means to be a Bruin, and we are excited to celebrate his career with his family, friends and our fans on November 29th," it read in part.
When asked about the reaction he has received from family and friends about the announcement, Rick wryly said, "I didn't realize so many people had my phone number."  He added with a hearty chuckle about how his last 24 hours have gone, "All I have been doing is answering phone calls, texts and emails, and I still have about 60 to go!
"It's been incredible, really.  With social media today, once they announced it, it was out.  I had to make sure I told my kids and my wife before they read it on Facebook," he said with a laugh.  "I would have got a lot of heck, you know?
"I was lucky, two of my three kids are in town, so we were able to go out and have a little celebration.  It's just been great."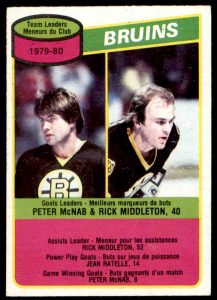 When reached by BSD to comment on his former teammate finally being honored as such by the Bruins, Nifty's longtime roommate on the road Peter McNab was overjoyed.  "With Nift, it was always friendship first, roommates second, and teammates third," said the former B's center.
He continued, "When I played, there were two guys on our team that I never wanted to miss a shift of.  The first was Taz [Terry O'Reilly] because you never knew what he would do out there.  The second was Nift, because he could do things with the puck you had never seen before.
"One thing people don't realize about him was how strong his upper body was.  He may not have hit a lot, but he played with a long stick and a low lie, and just dared opposing defensemen to take the puck from him.  More often than not, he would breeze by them before they knew what happened to them."
He added, "We knew who was who (on the late 1970's Bruins teams that was, as McNab rightly claims, the most talented team not to win the Stanley Cup), both on the ice and off.  You play your whole life to be one of the guys that is called upon to play in crunch time.  Everyone on those teams knew that Nift was one of those guys."
As often happens when hockey season approaches, the conversation turned to the Hall of Fame, and whether he thinks that such an honor that he is being bestowed upon by an Original Six franchise with such a storied history may get the attention of the HHOF selection committee this fall.  Middleton was once again modest.
"I don't know; sometimes it happens, sometimes it doesn't.  You know Terry's number is up in Boston but he is not in the Hall, and I don't know why.  It is not necessarily a pathway, but maybe people think that if the Bruins thought this much about him, maybe we should rethink it.
"Honestly – and I'm not knocking the Hall at all – but I always thought if this would happen, it would be the biggest honor for a hockey player to have is to have his number retired by the team he spent a majority of their career with," said the soon to be latest immortalized legend to wear the Black and Gold.
"I grew up in Toronto watching the original six – I admit I was a Leafs fan back in the '60's, they won four [Stanley] Cups – but to be drafted by the New York Rangers and have my number retired by the Bruins, it is a dream come true."
A dream come true, indeed.  And one that should have been realized years ago.  Now if the Hockey Hall of Fame in his hometown finally comes to its senses, the man known as Nifty will be given his rightful place among the greatest players who have played the greatest game on earth.
Follow on Twitter @KevinMFlanagan.  Email at kflan@bostonsportsdesk.com.