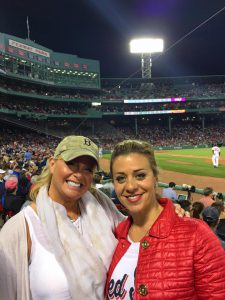 "Experiencing Fenway Park through Someone Else's Eyes"  by Kristy Spinelli
Boston – There is no greater thrill then to introduce someone to something brand new.   Last night I got just the chance to do that when I took one of my friends to her FIRST ever Red Sox game!!  When I asked if she would join me she asked me, is this event "indoor or outdoor"…I knew from that moment, this was going to be not only a first time experience for her, but this was going to be a night I would never forget watching her and experiencing Fenway through her eyes!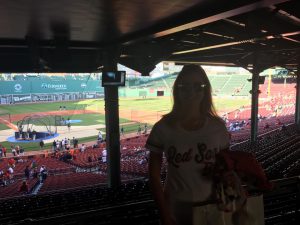 For those who are frequent visitors to Fenway Park there is a loss each time for what is truly special about this place.  We forget that first moment when WE first walked through the gates and entered such a magical place.  There is no other place like Fenway…it's small size (compared to other MLB parks), Yawkee Way with it's street performers and family events to watch, the Green Monster standing there in all its glory and the smell of a ball field, complete with popcorn, peanuts, hot dogs and Cracker Jacks!!  Not knowing what Jowelle was going to think of this outdoor venue, I watched her reaction to walking up the steps to see the ball field from the Pavilion area.  Here she could see it start  to come together.  Everyone we met last night was so friendly and very helpful taking our pictures and not seeming to mind our loud clapping and awe struck yelling out to David Ortiz who was literally feet away from us all night!!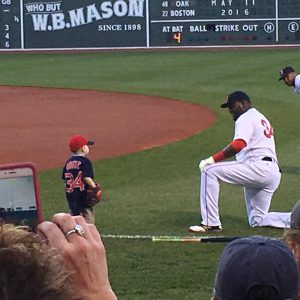 We got to experience one of the best nights of baseball I can remember…our seats were perfect, the weather was like a summer night and the Red Sox played an awesome game!!!  Sitting next to the bullpen we got to see each player come out and I told her a little about them and showed her how to look out to the scoreboard to see close up what was going on at home plate.  We got peanuts thrown to us, we drank beer and ate hot dogs and we went shopping for souvenirs for her kids.