Summer Ever After Tour with Gnash and Dashboard Confessional 8/25/18
Running onto the stage in an excited frenzy, Zack and Rian appeared mere moments before Alex and Jack did, as they launched into their opening song "Damned If I Do Ya (Damned If I Don't)". The punchy guitar riff and cheeky lyrics entered the soundscape as the crowd went wild – the opening tune is notoriously a fan favorite, so who could blame them? Everyone in attendance screamed the lyrics of the chorus back to the band: "How was I supposed to know that you were oh, oh, over me? I think that I should go / Something's telling me to leave but I won't / 'Cause I'm damned if I do ya, damned if I don't". The energy was already at an all-time high at this All Time Low set, and the rest of the night quickly proved to grow astronomically even from there.
All Time Low consists of Baltimore natives Alex Gaskarth (vocals and rhythm guitar), Jack Barakat (lead guitar), Rian Dawson (drums), and Zack Merrick (bass). The band formed way back in 2003, while the guys were still in high school, and their climb to the top of the alternative charts was steady and consistent, even landing them in the ubiquitous background of the "scene" scene with what has become the emo-punk classic that is "Dear Maria, Count Me In". The wildly popular track is off of their second studio album, So Wrong It's Right released in 2007 (and certified platinum in 2015).
This concert was the Boston date of the Summer Ever After Tour, during which other artists Gnash and Dashboard Confessional also played sets. Personally, I was not super familiar with their music, aside from some casual radio listening or pre-concert perusing, but both bands brought some great energy to the pavilion on this lovely, late summer night. Unlike other tours that are usually done in support of a recently-released album, this tour was more about playing some classic All Time Low songs that the fans have grown to love over the years, in addition to the two new singles released: "Everything is Fine" and "Birthday". The most recent album released in summer 2017 was Last Young Renegade, which of course got some love from this tour, but was not the centerpiece – the rogue wanderer emblazoned on that cover and the pop, yet dramatic vibe of that album cycle has been pronounced over, with the focus shifting to the flamingo-laden pastel hues of the happy-go-lucky two new singles (one of which was released completely by surprise via an actual birthday cake sent to fans in the VIP All Time Low Hustlers Club).
After the opening number of their set, bright laser lights harkened in the next song, known as "Everything is Fine" – one of their two newest singles. With a loud and full-bodied chorus meant to be blared on a car stereo system with the top down, this band never fails to please even the most distinguished of music fans with their sonic dynamics and piquant wit present both musically and lyrically. Encouraging their fans to "Turn my music up so loud / tired of bullsh*t drown it out / everything is fine and nothing matters anyway if I don't care". Gang vocals layered neatly in the bridge section as the song built back up to the final chorus and confetti exploded into the air above the screaming fans who were undoubtedly weak in the knees by this point (I know I was).
After another old favorite titled "Stella" back-to-back with a hit off of their latest album, "Dark Side of Your Room", All Time Low took the crowd back down memory lane with another one of their punk classics: "Weightless". Some subtle techno-laced palm-muting mixed with a healthy dose of hesitation before exploding into the chorus greeted the fans' ears, while Alex proclaims "Maybe it's not my weekend, but it's gonna be my year / And I'm so sick of watching while the minutes pass as I go nowhere / and this is my reaction / to everything I fear / 'Cause I've been going crazy / I don't wanna waste another minute here." Probably one of their most relatable songs in my book, "Weightless" is one of their older tunes, but it still holds so much prominence in the minds of their fans, both past in present. And the sheer capability of a band to produce a song that sits so permanently in the psyche of those who listen, be it with a catchy riff, relatable lyrics, or that overall comforting vibe that someone out there understands what young adults go through these days, is clear and undeniable proof of their punk rock prowess.
By far my favorite song of the night, "Backseat Serenade" hit me like a wall of bricks as I realized that the band took my very own insecurities and put them into a song. I've heard it a million times, of course, but live rendered the song into a completely different entity. They didn't remix it or make any sonic changes, but thematically and experientially, there was something so incredibly magical about it as a whole. I love the poetic nature of the lyrics where they say "Lazy lover, find a place for me again / You felt it once before / I know you did / I can see it / whiskey princess drink me under pull me in / you had me at come over boy / I need a friend / I understand." This song simultaneously comforts me and calls me out for being a lovesick college student, which is multifaceted and powerful in every element of the piece. The uncertainty of the vibe mixed with the driving drum beat fills the listener with a sense of hope and understanding that affected me so tangibly. The brightness of the laser lights and the energy of the band made for some unforgettable moments, so much that it went by in a blur. I remember that I had wanted to capture a bit of it with my phone, but I must have been too enthralled to do that, since I couldn't find any video clips of that song after the fact.
The stage presence of the band is undeniably entertaining and energetic, as they seem to be constantly running and jumping around. There always seems to be a quirky element thrown in as well, as Jack appeared to be playing guitar while simultaneously hugging a giant, plush, pastel-colored llama under his arm (for what reason, I guess I'll never know, but I wouldn't be surprised if it was a fan gift, as he featured this plush amongst others on his Instagram page after the show).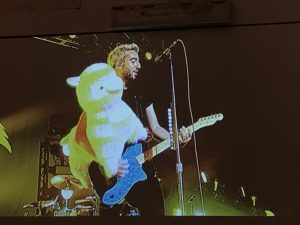 As great as their stage presence is, their ability to weave in some fun audience participation is prominent as well – sometime in the middle of the set, Alex asked everyone to climb on a friend's shoulders… which venue security promptly put the kibosh on. "Sorry I got you guys in trouble", Alex sheepishly commented. "I'd never lead you down a bad path… well, maybe one more time."
Another one of my favorites was from Dirty Work (rumored to be the album most hated by the band even though it's my personal favorite) was "Do You Want Me (Dead?)", which tells the all-too-relatable narrative of mixed signals, layered against the metaphor of a criminal being wanted for breaking the law: "I've got my hands up / I'm staring down the barrel of a loaded night / So do you want me / do you want me dead?". This is an incredibly clever connection, as the theme reflects so seamlessly the band's generally unsatisfied sentiment of love and romance (ironically, Alex is happily married as of 2016, but I can only imagine the time and heartbreak he went through to get there, as seen in the songs that portray the uglier side of dating and relationships). Mixed with pop punk sonic tropes and cheeky lyrics, the unwitting fan girl barely notices how sad it all really is, until taking a closer look.
The rest of the set features some other fan favorites, such as "Therapy", "Something's Gotta Give", "Kids in the Dark", and "Good Times", the latter of which featured Alex asking everyone to put up their cellphones to mimic the stars, since "We can't see any here [because of the pavilion tent], so you've got to do it for me." The slower, more melodic song filled the venue with a nostalgic vibe, closing out the main portion of the set in an emotional flourish.
As the stage went dark for what felt like years, the crowd began pounding on the seats and screaming the band name over the warm, night air. And then, in the beautiful South Boston venue, with airplanes from Logan Airport visibly flying over our heads, the band re-emerged once more; with three more encore songs in their back pocket. The fans were treated to the newest single "Birthday" alongside everyone's stand-by favorite "Lost in Stereo", ending the entire show with the stadium-sized and signature emo classic that is "Dear Maria, Count Me In" – "I got your picture, I'm coming with you / Dear Maria count me in / There's a story at the bottom of this bottle."
The Summer Ever After Tour was everything I expected and more (except for the fact that notorious flirt Jack surprisingly wasn't thrown any lingerie on stage, which is usually an All Time Low mainstay expectation, albeit not officially advertised). Regardless, the four boys of pop punk put on a show for the crowd that was a short hour and fifteen minutes, but filled with all the love and fun of a complete tour. As I left the venue, I had the lyrics floating through my ears "I'll hate the goodbye, but I won't forget the good times." And even if you don't love the pop punk genre as much as I do, I can pretty much guarantee that you'll dig whatever Alex, Jack, Rian, and Zack think up next, because they're masters at making even an all time low point feel like an opportunity to laugh, throw some confetti, and eat some birthday cake.
Angelina Singer
BSD Correspondent
angelina320@icloud.com
Instagram: @angelinasingerauthor