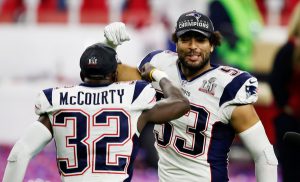 Q: What are your thoughts on the final game of the regular season and what's at stake?
DM: Yeah, always a tough game playing against the Jets, no matter when it is. I think, especially looking back at that last game, it's a play or two going in a different direction. Obviously, the big play towards the end of the game with [Austin] Seferian-Jenkins on the goal line, so I think we've just got to realize division game, it's going to be tough Sunday, that we've got to really prepare and be ready to go because I'm sure they're watching the film like, 'If we get a couple of these plays turned around, we would have won this game at home.' So, I think guys understand that. We understand that there's some different guys in there for them, obviously starting at the quarterback position, and that's always the key point. When you get to know your opponent, get to know how they're playing, what's different, and I think guys are on that today, and we've just got to keep building that through the week.
Q: Is it easy for a veteran player like James Harrison to get used to the scheme and system here?
DM: Yeah, I mean, we're all trying to learn. I think the big thing is, whenever you come in, once we start the season, the good thing is he's trying to do the same thing we're trying to do right now. We're trying to learn how we're going to play against the Jets, the exact game plan we're playing, and that's why sometimes for us it helps for guys to come in in season because you're not trying to learn a ton of things. We're all trying to learn how we're trying to beat the Jets this week. I'm sure he could probably answer how tough that is. I've never had to experience that. But, I think we had a good day today of focusing in on this is how we want to play, whatever the technique or whatever the defense is for this week, and that goes a long way in our defense because it can change week-to-week depending on who we're playing.
Q: How bizarre was it to see James Harrison in Patriots gear today?
DM: No, I mean, guys can play anywhere in this league. That's just the way it works. You never know who will show up or who will be gone. That's the tough part about playing in the NFL.
Q: With all of the defensive personnel changes this season, when you've looked around the huddle over the last few weeks, have you ever wondered who some of the players are?
DM: No, I think that's the good thing about our team is guys kind of build our relationships, whether it's on the plane when we're traveling, whether it's in the locker room. Like you see, we don't have no game room in there. We're in the locker room. We're talking to each other. That's the fun part. So, when we're out there playing on Sunday, we know each other, we know who we're communicating to, we're out there playing together. I think it's harder for you guys to see these guys come in one week, two weeks, but we spend so much time here, being here for one week is like being with somebody for a month. So, I think that's the fun part of getting to know your teammates and then going out there and cutting it loose with them.
Q: Do you think it is more difficult being a 40-year-old quarterback or a 39-year-old defensive lineman?
DM: No idea. I'm happy I'm just a 30-year-old defensive back. I'll stick to just knowing that. I don't think I'll experience a 39 or 40 of anything other than retirement.
Q: Is there any conversation about clinching the No. 1 seed if you win this game or is it assumed that everyone knows that going into this game?
DM: Yeah, whatever comes with it, comes with it. I think, for us, the biggest thing is playing well. It's that time of the year where you don't want to go out there and just not be prepared, not go and play a good game. I think we talked about it all year of how we need to get better, we need to improve. Each week is about improving. Week 16, your 16th game, you don't want to be talking about, 'We came out there and we played bad and we need to improve.' Like yeah, we'll still need to improve some things, but it's got to be small things. We have 15 games under our belt. We want to continue to build on the 16th game and come out here and play and finish off our division.
Q: Did you know James Harrison at all before he joined the team?
DM: No.