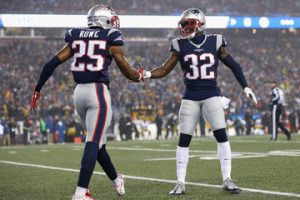 Q: How does losing Dont'a Hightower for the season affect the defense?
DM: It's a tough loss. I mean, obviously, he's a guy who's been out there for a lot of years now, played multiple roles on the defense, different spots, communication, everything. I mean, he's a huge part of what we do. We've been out there for a couple games without him, so we know what that's like, but it's always the same thing – when a guy like that goes down, a bunch of guys have to step up and kind of try to fill that role, and in this case, a bunch of different roles. It's a tough loss for us defensively, but it's something we'll have to overcome.
Q: How difficult is Hightower's position specifically?
 DM: Very tough. I mean, playing linebacker in this league, along with a lot of other positions, it's tough on the body. I mean, playing this sport is tough, but especially High – I mean, he plays different roles, he's down in the front, he's playing backer, he's covering, he does a lot of different things. So, it's a lot of stress on his body. I mean, he does a good job of trying to take care of his body, but that's one of those things where it just happens. Like I said, tougher for him. You know, he's done a lot to get back and be on the field and start to feel good, and [it is] obviously a big help to our defense when he's out there and playing well. I know it's very frustrating for him to be going through this.
Q: You said many guys will need to step up in place of Hightower. What are some of the things that you specifically need to do?
DM: I mean, I don't play linebacker.
Q: But, I imagine that it's a ripple effect, where different responsibilities go to some other guys. Does your role change, on or off the field?
DM: No, not really. I mean, off the field, I always say, I don't get too into – there's no hoorahs. Guys need to prepare. I'm always a guy that's in a leadership role on how we prepare as a defense, no matter if High is in or out. So, that doesn't change, but I think for all of us, it's just being prepared and being ready to go. It's not just one guy or even like it's not just Kyle Van Noy trying to fill Hightower's [role]. It's all the guys stepping up and preparing and playing a little bit better.
Q: How does this compare to when Jerod Mayo went out around this time in 2014?
DM: I guess it might be similar. You know, it's always hard to judge that because the team is different. I think that was a little different because in '13 it was different because that was the first time that I had been here that he was out for a season. That was a little different. In '14, with Jamie [Collins] and High in there, they were two guys that had already played a lot of football. So, it was tough just to fill his leadership role, but a lot of guys had a lot of football experience and I thought were ready to take on that role. You know, E-Rob [Elandon Roberts] has been out there a good amount. I thought Dave [Harris] got a lot of playing time last week, so he's a veteran guy, so he's always ready to go in there. And obviously KV's [Kyle Van Noy] been out there and has played a lot of snaps this season. Guys have been out there and ready to go. When injuries happen, it gives a lot of guys opportunity to play now. The thing that I think has been great about being in this building, a lot of guys have waited for opportunity and they work hard and they try to prepare themselves to be ready if anything happens. So, very unfortunate for High, but some guys get opportunities to step up.
Q: Who do you see being able to step up and make big plays at critical moments in place of Hightower?
DM: It can be anybody. I mean, Malcolm Butler made an interception in '14, and I don't think any of you guys in this room would have picked him to be on the field in '14, so that can come from anybody. If you're out there on the field, that gives you a chance to make a big play at any moment in the game.
Q: How long might it take to figure out who subs in and steps up in different spots with Hightower out?
DM: I mean, guys have to be ready to go when you get in. We can't afford for it to take a while to find out who's going to play good football. You know, we need to continue to get better, and that doesn't change with anybody going out – myself, anyone. If they're not there, someone else has to step up and play. It can't be open tryouts each week we go out there to play a game. Defensively, that would be really bad for us. I think guys have been in there, guys have been practicing all season, so I think we're better than we were earlier in the season. High played against Kansas City and then I think he missed the next two games. I think we're in better shape than we were then, but guys have to step up and play well right away. It can't be when we're way in, all the way for four or five weeks. Guys have to step up and be ready to go.
Q: As a veteran but also as someone who is new to the team, how much of a difference have you noticed in David Harris' comfort level and leadership in the defense from Week 1 to now?
DM: Yeah, I mean, he's had a good comfort level. I think it's because he's very knowledgeable of what's going on, but the more reps he's gotten, obviously he's done better. The thing is, like he came in there Sunday, there was no panic from anybody. He was very calm, played fast, was running around hitting, so I think anytime you get veteran players, playing football is not new to them. Obviously, the scheme and all those different things when you go to a new place, but once you get out there and you're playing, I think you just go play football. I think he's a guy that can play different roles because of his knowledge of the game. I think he's stepped up and showed he's ready to go. I think the thing that I have tremendous respect [for] is he's like one of those true pros – like he's in here the same time every day, he knows everything, he's been on the sideline [during] games where he's inactive, he's pointing things out of what's going on in the game. He's a guy, I think for players, you can tell whenever his number gets called, he's going to be ready to go because you can tell he studies what we're doing and what the opponents doing, week-in and week-out, for whenever he's called upon, to be ready to step up and play well.