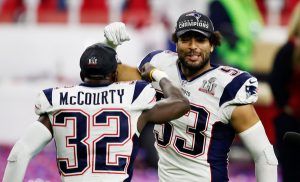 Q: What stands out to you as the primary reason for the good defensive performance tonight?
DM: I've said it all season. I thought we executed our game plan perfectly tonight. Our coaches have been on us about just make a team make a play to beat us. You know, Julio Jones catch in the end zone, [Mohamed] Sanu's catch on the 1-yard line – like, those are great catches. I thought we competed and made them earn every yard. When you go against good teams, that's what you have to do. We made enough plays. We played really well on third down, which we talked about always helps us when we play well on third down. And then tonight happened to be where we had to play plays on fourth down, and I thought we handled that well. That's always a little different. You're thinking go punt return, the offense stays and I thought guys were calm and were able to execute on fourth down, too. So, [it was] just overall everyone understanding game plan and play-in, play-out, 11 guys on the same page.
Q: Your offense held the ball for 34 minutes tonight, which meant the defense was not on the field as much. How does that correlate to the ability to make plays when you are on the field?
DM: I thought Bill [Belichick] said it best this week. He said it was about time we played complementary football for four quarters. He said at times, we played really well on offense. At times, we played really well on defense. At times, we played really well on special teams, but we hadn't gotten it all together. I thought tonight we did a good job of that. The longer the offense is on the field, on the sideline, defensively we're talking about getting on the field and getting back off. Once our offense gets in the groove, we want to get them back on the field. That's why I'm saying third down was huge for us – guys just making plays. We weren't able to get a turnover, but, you know, you get fourth-down stops and third-down stops – those are just like takeaways.
Q: How did the fog and visibility issues either aid or hurt the defense? 
DM: It wasn't bad field level. I mean, it was rough for us to see on the big screen when the offense was out there, but once we were on the field, you could see the ball. It wasn't a problem, I don't think, for either side.
Q: After giving up 300 passing yards in consecutive weeks this season, was it a big motivation for the defense to limit a quarterback like Matt Ryan?
DM: The motivation really was we knew if we didn't come ready to play that Matt Ryan had the ability to really kill us. You put him back there with the receivers they have, we knew it was going to be a huge challenge. So defensively, especially in the secondary, we knew we had to execute the game plan. We felt that we had a really good game plan our defensive coaches came up with, and I think we kind of knew if we executed and played to it, then we were going to have a great chance to go out there and win today. I thought guys played very confident for all four quarters. Like I said, the one touchdown we gave up was a great play by Julio Jones.