By Kevin Flanagan
BSD Senior Staff Writer
Less than a year removed from the "greatest Red Sox team ever" that finished the season with a franchise high 108 regular season wins and stomped on the best teams in baseball to win their fourth World Series Championship under this current ownership group, John Henry and the best of the brass that populate the most important offices at Fenway Park are about to take a blowtorch to the team most Sox fans would be kept together to fight for titles for the foreseeable future.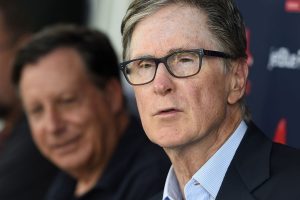 It doesn't take a medium with the insight of a mystic on the level of Miss Cleo to predict that the Olde Towne Team is headed for a dip in their near future that will sadly resemble the late night snake oil saleswoman faced in the late 1990s, the only difference is, she prayed on the hopes of the hopeless to make her long lost fortune.
But looking at the fact that Henry's given a mandate to the next executive to reside in the front office on Jersey Street to cut costs more rapidly than a certain president of the leading country in the free world sends out caustic tweets, it will be hard to determine who the biggest sucker was going forward.
Those who were drunk and desperate enough to dial a 900 number in the late '90s to offer carte blanche on their credit card to an obvious fraud with a face Jamaican accept to hear promises for the future that they knew would likely never come true?  Or those who will pay an increased premium to sit in the pitifully overaged ballpark to watch a team that is about to jettison its top end talent to get under budget next season?
"I think everyone knows we don't think they're going to be able to afford Mookie [Betts]," DH and potential free agent J.D. Martinez told NBC Sports Boston's John Tomase – who ranks slightly higher than fellow former Boston Herald scribe Ron Borges when it comes to credibility as a sports journalist.
Had a chat with JD Martinez about his option and asked him about the idea of staying in one place instead of joining a 4th team in 5 years.

"I don't mind moving around. I kind of like it," he said.

He trusts Boras and will heed his advice. Guessing he's out.

— Pete Abraham (@PeteAbe) September 30, 2019
"It's one of those things. It's kind of hard to have three guys making $30 million on your team. He deserves it. He's earned it," said the DH who will almost certainly take advantage of his player option in his contract to grab a seat in a lifeboat of baseball's upcoming version of the Titanic.
"I don't mind moving around. I kind of like it," Martinez told the Boston Globe's Pete Abraham following the Sox final walk off win at Fenway on Sunday evening. 
"I can't spill my beans just yet," said the Scott Boras client, who undoubtably will be advised to make a dash for the cash once the open market begins following the conclusion of the World Series at the end of October.
Any Red Sox fan with any common sense knows what losing two offensive players of this magnitude means to a club who is saddled with perhaps the three worst starting pitching contracts in Major League Baseball history – David Price (33 years-old) 3 years remaining a $32 million per season, Chris Sale (31 years-old on 3/31) 5 years remaining for a total of $145M, and Nathan Eovaldi (30 years-old on 2/13) 3 years remaining at $17M each – to the short-term future of the franchise whose farm system is a farce.
Whomever Henry tags to take over this ragtag bunch of overpaid – and oft-injured pitchers – will have to hit the equivalent of an eight-run grand slam when they make a deal for Betts while simultaneous figuring out a way to rebuild the depth in a system that was systematically disassembled by Dave Dombrowski in order to bring a title to the team in 2018.
While historically Red Sox fans have looked forward to the hot stove season when the depth of the New England winters have approached in the past, the darkest days that will soon shroud the six-state region will undoubtably result in their hopes of a contending team taking the field next spring in Fenway Park being put on ice this offseason, and for the foreseeable future going forward.
Follow on Twitter @KevinMFlanagan.  Email at kflan@bostonsportsdesk.com.