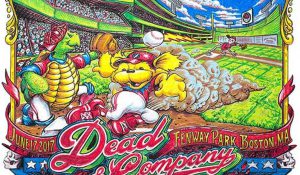 Dead & Company Kicked Off Fenway's 2017 Summer Concert Series
by Kristy Spinelli, BSD Correspondent
FENWAY PARK – This weekend proved to be what concert goers in the Boston area had hoped… a solid two-night kickoff to Fenway Park's 2017 summer concert series with Dead & Company taking stage.  This is the second year they have played here, last July being their first show.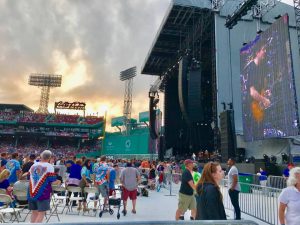 Rain went through in the morning on Saturday but by time ticket holders were walking through Yawkee Way when the gates opened at 5 p.m., it wouldn't have mattered anymore if there were sprinkles in the forecast…everyone was ready to see Dead & Company at Fenway!   I am a HUGE John Mayer fan and whether or not you agree he should be put in the position of filling the unfillable shoes of the late Jerry Garcia, I don't think anyone could complain when hearing his perfect vocals and intense love for playing the guitar.  After talking to some fans who have heard Mayer, most can agree that he is a perfect match in a range of guitarist/singers that have tried that feat over the years.   The once Berklee student held his own and took center stage for the majority of the evening.  He seemed in his element and nothing seemed to make the pop singer more happy than to be sharing the stage, doing what he is known best for…guitar playing.   John Mayer's face said it all…what a night to be at Fenway!!!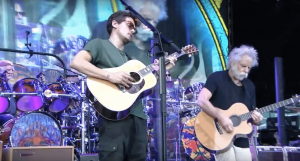 It was years ago that the American rock band the Grateful Dead was formed…1965 to be exact.   After the death of Garcia in 1995, former members of the band, along with other musicians, toured as the "Other Ones" in 1998, 2000, and 2002, and "The Dead" in 2003, 2004, and 2009.   In 2015, the four surviving core members marked the band's 50th anniversary in a series of concerts that were billed as their last performances together.  There have also been several spin-offs featuring one or more core members, such as "Dead & Company", "Furthur", the "Rhythm Devils", "Phil Lesh & Friends", "RatDog", and "Billy & the Kids".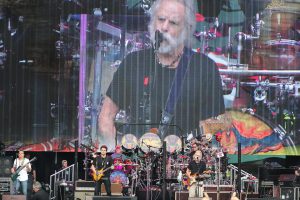 I had never been to a Grateful Dead concert before and I was anxious and very excited to experience Dead & Company, especially at the coolest concert venue which I believe is Fenway Park.   The band currently consists of three former Grateful Dead members…Bob Weir on guitar, Mickey Hart and Bill Kreutzmann on drums. Phil Lesh the only other surviving original band member has since retired from touring,   John Mayer (guitar), Oteil Burbridge (bass/drums), and Jeff Chimenti (keyboards) have been added to round out the 6 member band touring last year in 2016 and with their 2017 summer concert tour covering 15 cities.  This year's tour began in Las Vegas on May 27th and will end July 1st in Chicago.  As of January, 2017 the band has released no studio recordings, but all of the concerts from their 2016 and 2017 summer tours have been/will be released on CD, on iTunes, and available through their Livedead.co website.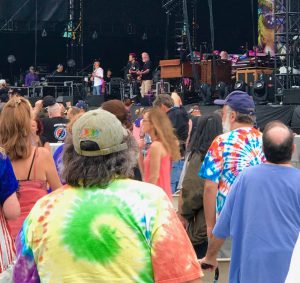 What I did quickly realize is that seeing this band regardless if this was your first time or not…it was an EXPERIENCE.  Saturday's first set was approximately an hour with Set II being an hour and 45 minutes long.  Fenway Park was transformed into a dancing mecca with smoke filled air, colorful clothing and attendees ranging in age from 2 to 92!  "Sheer joy" was the feeling I would describe with everyone around me, singing every word while the band just seemed to play along.  Security made such great efforts to keep the open areas free from mishaps as dancing to "dead" music seems to be interpreted by arms flailing in the air.  For the first time in my life I was at a concert where it didn't seem to matter what your dance moves were…no judging here…and you seemed almost out of place if you weren't swaying along.   That is why the "experience" is something I believe ALL should be a part in your lifetime.
Set I: The Music Never Stopped, Cold Rain and Snow, Me and My Uncle, Big Boss Man, Ramble on Rose, Sugaree, Passenger
Set II: Dancing in the Street, Help on the Way > Slipknot! > Estimated Prophet > Eyes of the World > Drums > Space > I Need a Miracle, Standing on the Moon > Franklin's Tower
Enc: Black Muddy River > One More Saturday Night
With the current 2017 Summer Tour being more than half over, if you can catch them playing, I would recommend you grab tickets and go.  With all the concerts I have attended over the years, this tour is one you wont want to miss!!!  Here is the rest of their schedule: