­RED SOX NOTES (12-11)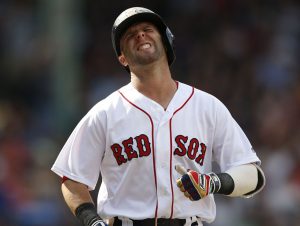 THE RED SOX suffered their first loss of the season when leading after 6 innings (6-1), snapping a streak of 9 consecutive wins in Interleague games at Fenway…Was just their 4th loss in their last 25 day games at Fenway Park…Fell to 6-4 when scoring first.
· Committed 4 errors, tying last year's season high (7/2/16 vs. LAA).
HANLEY RAMIREZ (1-for-4, R, HR, RBI) hit a 469-foot solo HR over the Green Monster in the 3rd, topping Kris Bryant's 449-foot blast yesterday for the longest at Fenway Park this season…11 of his last 21 HR have come with 2 outs…Has 17 HR and 48 RBI in his last 42 regular-season games at home (.333/.409/.699).
· Has 12 HR in 58 career games vs. the Cubs, including 9 in his last 31 games against the club (.360/45-for-125, 27 RBI).
· Has hit safely in his last 5 games, and 12 of his 13 home games so far this year (.327/16-for-49).
ANDREW BENINTENDI (1-for-3, R, HR, 2 RBI, SF) homered for his 2nd straight game, his first career pair of consecutive games with a HR…All of his 21 career XBH, and 48 of his 59 hits overall, have come vs. RHP (.938 OPS)…Also recorded his 3rd career sac fly (last 4/12 vs. BAL)…Was his 3rd multi-RBI game of the year, all at Fenway.
· Has 3 HR in 2017, all vs. NL clubs…His 3 Interleague HR are already 3rd-most by a Sox rookie…Has hit in his last 7 such games (.370/10-for-27, 2 2B, 3 HR, 8 RBI).
· Has reached in 19 of 22 games…His 13 RBI are tied with Fred Lynn in 1975 for the 2nd-most by a Sox rookie in April since 1913 (Nomar Garciaparra, 16 in 1997).
DUSTIN PEDROIA (3-for-4) recorded a season-high 3 hits, his 4th straight multi-hit game vs. CHC (.647/11-for-17)…In 11 career games vs. CHC, has hit .362 (17-for-47), including a .455 mark (15-for-33) in 8 home games…His .3398 career Interleague AVG (229-for-674) is the highest of all time (min. 500 AB, 2nd: Piazza, .3395).
XANDER BOGAERTS (1-for-4, R, 3B) led off the 3rd inning with his 6th career triple (last 9/30/16 vs. TOR), the 3rd by a Red Sox hitter this season (last Christian Vázquez, 4/11 vs. TB)…Is 20 for his last 59 (.339), having hit in 13 of his last 15 games with an AB…Was his ML-leading 179th hit in a 2-strike count since the start of 2015.
MARCO HERNANDEZ (1-for-3, 2B) hit a 2-out double in the 4th inning, his 2nd 2B of the year (also 4/13 vs. PIT) and the 3rd of his career…Has hit in 6 of his last 7 games (.364/8-for-22)…In 6 career Interleague games, is 6-for-14 (.429) with 3 2B.
JACKIE BRADLEY JR. (1-for-4, RBI) recorded an opposite-field RBI single in the 2nd…Was his 2nd straight game with an RBI single in his 1st AB…3 of his 6 RBI this season have given the club a lead.