You probably know Sam, Audra, and Matt from their work in YouTube cover band First to Eleven, but now they're trying something new. Right now, they're touring with Against the Current and although I sadly wasn't able to attend their Boston show this time around, this album review should suffice.
Having come from a background involving amped-up covers of your favorite songs, these talented musicians know what makes a hit song tick. Then they put eleven tracks on this album, and you're going to want to listen to all of them. I wouldn't say it's pop punk – because that's a very particular genre all on its own – but there are power-pop and pop rock elements here that definitely toe the line. If you like their work as First to Eleven, you will love their original music as Concrete Castles (which, btw, was taken from a lyric in their early song "Thrill"). Without further ado, let's dive in to this eleven-track collection of homegrown pop goodness brought into the spotlight courtesy of Velocity Records and Equal Vision Records.
1. Wish I Missed You
Opening the album is a somber, ambient track with the ironic first lyric being "silence". But then the beat drops and layers new colors to this track ahead of the sassy-chorus laced with chugging guitar chords and bouncy sound effects cognizant of the newer 5SOS stuff. Second verse is taken over by Anthony Green – another rock musician featured on the track. I'd never heard of him before this, but I will admit his vocal tone is similar to Audra's, so his addition to the song adds a unique texture to the overall vibe. I also love the snarky attitude populating this entire piece depicting a breakup where only one person is sad about it. Very solid opening to a great album.
2. Hidden Faces
I know it's early to say this, but this song might be my favorite on the album. It's a great pump-up song for the gym, with some fun techno beats setting up for an explosive chorus. Thematically, I love the visceral language depicting what it feels like to fall for someone hard and fast: "Oh no, you pull my heart through my chest now. Bleeding out, lose my control alone." The overall style reminds me a lot of All Time Low – another one of my favorite bands. It also has a great message of remembering that it's inaccurate to assume you know a person until you interact with the versions of them that exist under the surface.
3. Just a Friend
This was the lead single of the album, and I wrote an in-depth review of the song and video when it dropped earlier this year. You can read about that HERE. Such a great first taste of the album, and I loved seeing Audra, Matt, and Sam in their element rocking out. I also love the ambient guitar solo interlude, layered with Audra's haunting vocals and well-measured angst. Watch the music video HERE to get the full sense of what I mean.
4. Porcelain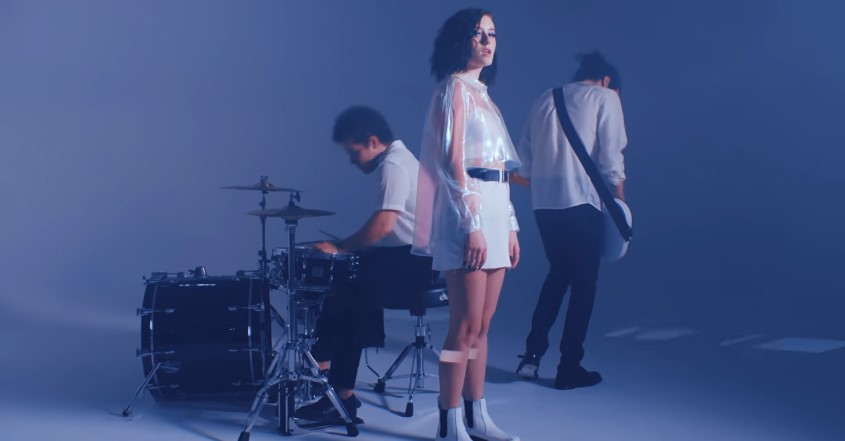 Yet another moody, brooding track with gorgeous harmonies and a good dose of sass: "Think I'm your girl / but you mistake me for grasping at straws". The chorus hits hard with high-octane drum fills and tangible anger that you can feel in every beat. The theme involves remembering that emotions are delicate and people can't be treated as anything more than fragile. Love the music video as well, which you can watch HERE. I'm no fashion blogger but I also LOVE Audra's sense of style. If you see this, Audra, please tell me where you shop for your outfits!
5. Holding On
This one feels like something right off the radio – it's definitely more pop than most of the other stuff on the album, but that's not necessarily a bad thing. At home amidst others like Dua Lipa or Demi Lovato, this song hits all the familiar song mechanics that listeners have come to expect. Flowing guitar chords bounce off the chorus lyrics that, although a bit repetitive, fits the narrative that they've created so well. I think the pre-chorus shines brighter than the chorus, but that's totally fine with lyrics like these: So I hold on to an endless string of nothingness that I pretend is real when you're around / So I hold on, tryna wrap you round my finger."
6. Half Awake
This song is probably the fastest tempo on the album – and it's got a great energy to it. Same frustrated tone as shown by lyrics like "you don't like it when we stay out late / but maybe we don't like the plans you've made
just keep saying that we'll never change / who's to tell us that we're half awake". This one fully utilizes sound effects and different sonic dynamics to delineate different portions of the song – that really adds a lot that feeling of building and rolling through troubling emotions. That dark, distressed feeling is so tangible and relatable and something that fans will undeniably find comfort in.
7. Atmosphere
Jazz influences pop out in the verse melody here – showing yet another side of this dynamic band. The chorus jumps out suddenly, with layers all flowing and colliding at once. I also enjoy the way verse two has even more energy than the first verse – that shows a sonic progression that tells a story that listeners can feel. The bridge especially has some really lovely articulations in it that blend and merge everything together. "Wish this song would burn up in the atmosphere / ten thousand feet and disappear" is something destined to be emblazoned on band merch. Great, great tune – an easy contender for top spot in my book.
8. Suburbia
This entire album has such a cohesive sound to it, but each song also has its own energy – that's a hard thing to balance but Concrete Castles does it with ease. "I keep pretending that it's all right / living in this picture perfect life" brings about an interesting commentary about societal expectations and the struggle of breaking into adulthood. That's something I've been grappling with more recently as well, so I really appreciate the band addressing this. It also addresses the fishbowl-like nature of living in a small town, and the fight to find yourself amidst what people want you to be. Great tune!
9. Thrill
As the tune that spawned their band name, this song holds a special place in my heart (as well as the band's as well, I'm sure). Originally released years ago as a First to Eleven song, it already has a strong following – and the brightly-hued video depicts this energy perfectly HERE. The message is basically just living life to the fullest and being your best self now. "We don't want to wait until the clock runs out / or waiting until we're six feet underground" is beautifully poetic, and I love the drum fills punctuating the anthemic chorus.
10. Mess
Stripped-down acoustic guitar arpeggiations begin this song amidst Audra's silky vocals. I like this change of pace from the rest of the album, with a great emphasis on vocal harmony versus flashy effects. The chorus brings in ambient piano chords but the acoustic guitar and vocals remain on center stage. This is a great connector to the ending of the album, and although it's simple, the second verse brings in more layers while still keeping that cohesion intact despite the brighter opening of the second pre-chorus and into the biggest chorus yet. Any song with carefully-defined dynamics is a winner for me, as that shows artistry and creativity. The half-time beat and choppier feel of the bridge sonically represents the lyrics "I'm unpredictable" – a very slick sonic device. Love it! This song changes and rolls so much in and around itself, but the vocals remain constant throughout. Great work!
11. Say It
Closing the album is another sassy vibe, basically begging for honesty in a relationship built on anything but. I don't love these particular sound effects as much, but I will admit they do blend nicely with the album as a whole. And as always, Audra's pro vocals are the constant element tying everything together. "Every single second I've been wasting on you / thinking that you'd come through but you don't now" is the center of this widespread problem – and it's great that Concrete Castles is changing the tides of relationships by shining a light on the problems people typically try to rationalize.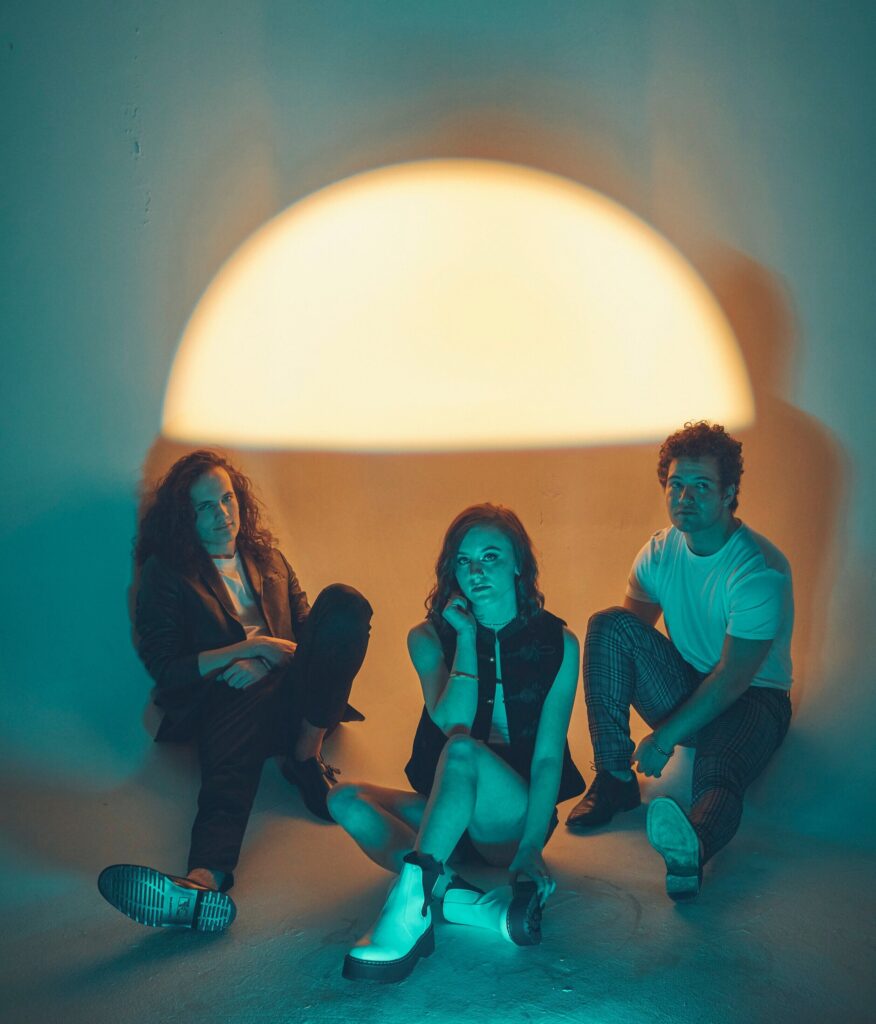 Concrete Castles is rapidly breaking into the music industry – and for good reason, because they are fantastic. Each of these songs carries with it the undeniable weight of hard work and heart – both of which the band has invested here in large quantities.
Listen to Wish I Missed You on YouTube HERE and Spotify HERE, and catch the band on tour with Against the Current now!
Angelina Singer
angelinasinger.com
@angelinasingerauthor