BRUINS HEAD COACH CLAUDE JULIEN PREGAME PRESS CONFERENCE
On after a game like the one against Calgary, what they do as a coaching staff to help get the players to finish on their chances…
Well, that was just one game. Again, I think we've done a pretty good job of scoring goals this year so it's not necessarily a big issue. For me, it was the other night, we missed the net a lot, so you move and it's game to game, so hopefully that's not the case tonight.
On the defensive effort last game and how beneficial it is to have a game like that before Chicago comes in…
Definitely a good thing for our hockey club, because we'll need that tonight and probably even more. This is a team that creates a lot and you obviously have great management skills and they don't make that many mistakes. They can certainly move the puck around and they have some dangerous players out there that can make things happen out of very little, so defensively, there's no doubt we've got to minimize our mistakes and really pay attention to details there.
On what it means to have so many players (seven) named to World Cup rosters…
You're definitely proud of those players, because to be named, it's certainly an honor. It bodes well for them individually and I'm pretty proud of those guys – they've earned it. I think through their work and through their statistics and the way they've played overall, to be recognized by your country or those teams is something pretty special, so no doubt they're happy and we're happy for them. So I think there possibly could be more down the road and we don't look at that as a negative at all, because of training camp. We look at it as an honor and probably pride for our organization to have that many players picked so far.
On how training camp will be affected with so many gone at the World Cup…
I don't know. I mean, you see at the beginning of training camp, we always use a lot of young players to give them some experience at the NHL level and stuff like that. You don't see a ton of veterans playing in the early stages. You see them playing more and more near the end of training camp, which, we'll all be back by that time.
On if he would like to see Brad Marchand get a nod on Team Canada…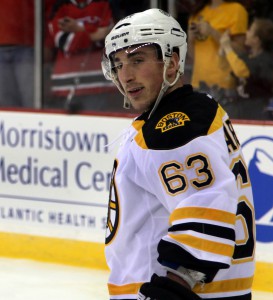 We'll see with time. There's a lot of – obviously a lot of names out there. As you often hear, Canada can probably make a couple of teams and still be pretty competitive, so he's definitely a guy that's on the radar, but you know, top 16 have been named and there's a lot of guys that could have been named, too, on that top 16 and we'll see how the rest of the season goes here, but a lot of players still on the radar.
On what challenges a player like Patrick Kane poses…
Well, he's one of those guys that you've got to keep an eye on all the time. You know, he's got that knack to kind of disappears and you lose sight of him, and the first thing you know, he appears in a real good scoring area. When he does have the puck, he's got great vision, he makes plays, he makes things happen, so real exceptional player for this league – probably one of the better ones, if not the best one right now. Again, you know, I think it's really about paying attention to where he is on the ice. You hear teams and players and coaches say take his time and space away, and you've got to do that, but you've also got to have awareness of who's around him, because he'll make things happen all the time.
On what he is usually looking for when he chooses someone to play with Brad Marchand and Patrice Bergeron, and if there's a common thread among the players who have played in that spot…
No, I think you just want somebody who can complement them and I think Brett Connolly's still a guy that can play there. He was starting to produce there a little bit near the end. I think Lee [Stempniak] steps in there, a leading scorer and a veteran player in New Jersey. This is certainly something that we're looking at and I thought the other night, for his first game, he played well and made some good plays. On the other hand, it just gives us more depth. When you've got Brett playing where he is right now, that's a pretty good situation to be in as a hockey club, so it's about having the right players play with the right players. You saw the other night, had to make a switch there with certain players, just because those lines needed to be better and that's what's kind of paid off for us, so sometimes, it's not always about what you start with, but what you have to do in the moment.