MONTREAL CANADIENS HEAD COACH CLAUDE JULIEN
On coming to Boston as a visiting coach…
Well, it was a little different. You come here as a home team coach and now you come here as a visitor, [it's] a little strange, but obviously familiar with what's going on, but as I said in French, a lot of construction going on around here, and things seem to be moving ahead. So, it is a little strange, but at the same time, I think I'll get comfortable soon enough.
On if it's nice to see not just former players but staff around TD Garden…
It is, and I'll probably see more tonight, guys that work security and all that stuff. You don't coach here 10 years without getting to know the people that work in the building and stuff like that, and I've always had good relationships with them. So it will be nice to see them, but at the same time, like I said, it's more important for me right now to remember what I'm here for, and I need to be as prepared as I'm asking my players to be prepared for this game.
On if he took time over the summer to reflect on what went right for him in Boston…
Usually you ask the other one, right, what went wrong? I think a lot of things, it's the people that surround you, and I think, from staff to upper management, and obviously players, and we talked about different stuff. The leadership group was very strong here, is very strong here, and guys that I was able to have from day one … I was fortunate to have good players, but at the same time, what went right was we just seemed to evolve with the game every year, try to bring something new and keep the guys interested and excited, and I think that's what coaches have to do today. You can't keep coaching the way you did 10 years ago and expect that it's going to work today. So, players evolve, and so do you as a coach. You need to evolve with the game. I felt I was able to do that in a lot of different areas, and kept the guys motivated and excited.
On if he has had a chance to catch up with any players or management…
I did, different times. Summer time, you might get a text from somebody, or you might text somebody because you found out whether he's a new father or got married, and I've said it before, there was a bond that was built here with players because of what happened to us. You don't win a Cup and all of a sudden disappear from each other's lives. It's been said before, it lasts forever, and I think I've had the proof of that just in what's happened to me in the last year. Players texting me after the game last time we played them, guys saying hi to me today at some point. That's the off-ice stuff. The on-ice stuff is two teams trying to beat each other to earn the two points.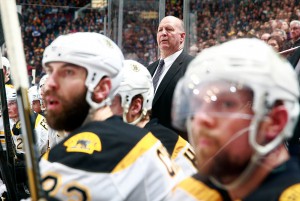 On what he liked about coaching and living in Boston…
Well I've said it before, it's a great city. People that come and visit the city love it. I liked it. I think as a family this is where our roots really grew. With a young family and stuff like that, I think there's lots to be said, and I've said it before and I'm certainly not ashamed to say that this is a great sports town that supports its teams, and fans are great. So there's nothing to dislike about this city and right now, it's about coming in here and hopefully making them not like you so much.
On if there's anything that sticks out about the Bruins since he's left…
I'm not sure I'm clear on the question. I think when you look at this team, they made some room for young players to come in, and they cleaned up some situations here in the last year, and they allowed some of their young guys to grow in the minors. You look at [Jake] DeBrusk and stuff like that, you look at [Charlie] McAvoy that's come in, and their leadership group is still the same. They have a strong leadership group and they tweaked certain things, and they're trying to play with pretty good pace, but when you look at us against them, I don't think there's a very big difference in the pace of the game. Sometimes it's about bounces, sometimes it's about certain teams making certain adjustments. It could be personnel related to how you play, but at the end of the day, in the standings, there's a bit of a difference there. But I think when the two teams played each other, there didn't seem to be a big difference. So, from my end, we've just got to keep trying to improve and keep plugging away here, and I think we'll be heading in the right direction.
On dealing with the absence of two centers from the lineup…
Well, I don't like to use the word difficult, but I like to use the word challenge. It's going to be a challenge for us, honestly. You can't lose two centers, and we all know that that's probably our challenged position right now. We don't hide from that fact, and then you lose one guy that's there all the time, the other one, Shawsy [Andrew Shaw] that takes a lot of draws, stuff like that. So, you have to, I guess, adjust. You want to ask your players to be conscious on how they play and what they're doing out there on the ice. You've got to be even better and smarter and you hope that as a group you can overcome those kinds of things. But it's always hard to ask one guy to pick up the slack and do it all on his own, so that's what we're going to try and do here, and I understand not having the last change is an even bigger challenge for a coach. So we're going to try and hopefully be able to make the best decisions possible.
On what he expects from Jacob de la Rose tonight…
I said it yesterday, I'll say it again. He's a young player, very young player, but has size, skill, great skater, great shot, and he just needs to develop, and those are opportunities for players like that to develop when they're put in there, because you don't really have a choice. And I think it's an opportunity for that guy right now to step up, and then hopefully become a better player. So if it doesn't pay off right away, it's going to pay off in the long run. So, we've got some young players that we've got to keep developing here, and in order for them to develop, you've got to give them those opportunities when they come.
On if he would still be coaching in Boston if the Bruins' youth infusion started earlier…
You know, we can dissect all we want, and I don't think it's the right thing to do. I think you move on, and that's not for me to say. People can decide on their own. All I know is there's a lot of new faces here and a lot of faces that are gone that would deal with me. So, that's just the team that was rebuilt, and that's what they've done. They've rebuilt, and they gave some young players some time to develop in the minors, and those guys are paying off right now. But as I said, when you have a good, strong leadership group, it's the best thing for a young player coming in, and they have that here.
On how he would describe the current state of the Bruins-Habs rivalry…
Well it's still there, and I know a lot of people would love to see the gloves flying off again, and all these five-on-fives and stuff like that, but it's not so much because there's not a rivalry. I think it's because the game's changed. There's consequences now that are a lot more severe than they were back then, and I still think there's, as you can see, in my estimation, last game that we played, even though there might not have been fights, there was a good intensity, and you could tell both teams were playing some of their best hockey. So, to me, that game meant a lot against each other, and you'll probably see the same thing again tonight. Whether it builds up here because it's three-in-eight, we'll see, and it's certainly not going to be premeditated. It's going to be because it happened.
On if it's hard to not think of Boston as home…
No, I mean, just because you work in Montreal doesn't mean you have to look at this city as a host city in your mind, you know, your family is still here. We built some roots here, but we're looking forward to also having the same kind of life we had here in Montreal, and that's the plan.