CLAUDE JULIEN PREGAME PRESS CONFERENCE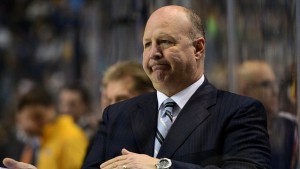 On his initial expectations of Matt Beleskey and what he has done in that time since to fit into the Bruins' framework…
Well, we liked his grittiness, you know, and he was a 20-plus-goal scorer last year. We didn't get him here because he was a goal scorer necessarily. We thought he could fit in well with his grittiness. We've got some skilled players, but we also need some players that are going to get their noses dirty and be physical, and when he's at his best, that's exactly what he is. He's not afraid to go to the net, he's not afraid to finish his checks. He's gritty, he gets his nose dirty, and it's been a good blend for our hockey club.
On Matt Beleskey being the type where his stats don't necessarily define what he brings…
No. But I don't think — 22 goals I think was his best year, you know, so he had an exceptional year last year. He played with [Ryan] Getzlaf and [Corey] Perry for a lot of that, so they do make pretty good plays and certainly helped him a lot. We've had him on different lines this year. We've got a young team and we've got to balance our lines, so obviously if we had a little bit more experience, we might have a little bit more stability for a lot of our players.
On a few Coach's Challenges going against him when he thought he had the call…
You know what, I don't want to be the guy that's stirring the pot here in this situation. I still go back to the [Patrice] Bergeron goal there against Montreal [Canadiens] — it should have been a good goal and that was a referee's call, but at the same time, like last night, I still can't see why that isn't offside, you know. And I wasn't happy after the game, because not only that — I lost my timeout and right at the end of the game, there's another real obvious offside that they had a great scoring chance on. I couldn't challenge that. So it's important to get it right. So those are delicate areas, that not me, but the League as a whole, we have to look at and see if we can improve that a little bit. I think it's a great move on the League's part to give those challenges, because we're trying to get the right calls. But right now, in my situation personally, I think there are two of them that even after review, I still disagree. But again, that's my opinion. Last night I thought the foot was up and it looked like the foot was up. I'm just glad that we were able to score that goal and win that game — certainly takes a lot of frustration away of what it could have been.
On what it says about the consistency of Brad Marchand that he has put up five 20-goal seasons…
Well, consistency — it always shows what type of player he is. He's a good player that can score goals. He's got a great shot. You know, he's probably one of the players that, down low, has the puck the most in the offensive zone. He gets in there and gets gritty and finds pucks and he's able to — he's such a shifty little player, he's hard to contain. All of those things put together give him great scoring opportunities and his goal last night on the power play, not too many guys can shoot the puck on the reception the way he did on that one.
On what he would say the identity of the team is heading into the All-Star Break…
We seem to really want an identity for this team, don't we? [Smiles] We're a young team that's just kind of growing. You know, I don't know that we have this specific identity, but when I say young — we have some veterans, but we've got a lot of young guys we're just trying to blend in here. And I'd say more than an identity, I'd look more for consistency from this team.
On how satisfied he is with the momentum the team has built heading into the break…
Well, again, five out of six games, you can't complain, but you know, we're always looking to be better in certain areas, and last night, we got ourselves in trouble with four penalties in the first 10 minutes of the second period, and those are things that you can't keep doing. So you're always looking to improve your team. There's areas where we're good one game and the next game, not so good, and that's what I mean by consistency. We've got to learn how to play a certain way and try and be as consistent as possible in those areas. But having said that, with this group that we have and what we've had to put together this year, I'm not going to complain about where we are in the standings and how hard we've had to work to get there.
On if he had to choose his top six defensemen right now for the Playoffs, which ones would he choose?
Who knows if I'd stick with the same six, you know? And we're far away from the playoffs. You're too far ahead for me.
On how different that is from years past where he would know his top six defensemen…
Well no matter what, those guys are gaining real good experience, you know. You have Adam McQuaid who is injured right now and those young guys are getting some experience and at the end of the year this will pay off, you know. Versus having a healthy core and a lot of those young Ds watching a good portion of the year – they don't get better necessarily by sitting that much. So it's been good in a way that they're able to play and get some experience so that if we do get into a tough situation we've got guys that we can put in at any time and know that they can do certain things that we're looking for.
On Colin Miller and Joe Morrow and if they've grown this season even though they've sat out a lot…
They've been around for a long time, you know, they've been in the American [Hockey] League. It's not like it's their first year pros here; it's their first year in the NHL but certainly not first year pros. We have to deal with it and then make sure they're ready. We ask that of our backup goaltenders and so if they can do it I'm sure the other guys can as well. It's a mindset that's important: that you work hard in practice and your practices are your games on a lot of occasions. So you try and be as sharp as possible so that when you do get a chance you're going in there and you're doing the job that will allow you stay in there a little longer.
On their road record being better than their home record…
We've been better on the road honestly – we've played a lot better, been more focused, you know. And at home we've had some bloopers that you'd like to forget about and you know we just have to be better at home. So our goal is to do that here for the remainder of the year to bring our home record where it should be, and it should be a lot better than it is right now.
On if Adam McQuaid is able to do anything yet…
I don't know. As far as injured players, you know, when they're not on the ice I don't deal with them. They just tell me if he's ready to go back on the ice. So I'll leave that to them; I don't know what the situation is with the All-Star Break and all that stuff, so it's a headache I don't need.
On Matt Beleskey playing with Joonas Kemppainen…
Yeah no I mean this is where we need his experience, you know. I mean I know that Kemper [Joonas Kemppainen] is a 27-year-old that's played pro for a long time and I'm going to be honest with you, I didn't think he had a really good game yesterday. And we need more from him as far as, you know, giving him some experience because I thought Pasta [David Pastrnak] was good yesterday and that should help Matt [Beleskey] with the offensive part of his game. But those two guys, Matt [Beleskey] and then Kemper [Joonas Kemppainen], reliable defensively, with a young player and Matt [Beleskey] has an opportunity to excel offensively with Pasta [David Pastrnak] who, again, skated well and made some plays yesterday. So you know you deal with what you have and you try and make the most of it. We keep trying to get some lines to be good together. And you know we're hopefully trying to build some consistency at some point, and as you can see we've struggled a little bit with that this year, you know, we're still looking for that. But as I mentioned the other day it would be nice to get more or less some set lines that can build up a little bit more chemistry together.
On if Zdeno Chara's role has changed over the years…
Well I don't know if it's used differently more than it's that we have some guys that have come in and been able to do some of the work that he used to do. And you know he used to have a real big workload every night that he played. So we're trying to spread that workload a little bit. We've got some guys right now as you can see on the first power play that have been a good power play for us this year and so we haven't had to use him. He's on the second unit that, you know, sometimes will only get 30-40 seconds. But to me he's still one of the best defenders in the league, you know. You have to work hard to get around a guy that size and that strong with a good reach. He's still very good that way and when he's on his game he's moving the puck extremely well. You saw his pass to [Brad] Marchand yesterday on the power play goal. So he's very capable on a lot of things but we've been fortunate enough to have guys step in and take some of that workload away from him.