POSTSEASON SCENARIO: The Red Sox can secure at least a spot in the AL Wild Card Game as early as tonight with a win, OR with losses by both the Rays and Mariners…TB hosts CLE (7:10 p.m.) and SEA hosts SD (10:10 p.m.).
>>> This would be the 3rd straight year in which the Sox earned a postseason berth, matching the longest streak in franchise history (also 2003-05 and 2007-09).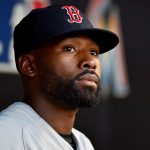 STATE OF THE SOX: The Red Sox lead the majors with 98 wins and a .681 winning %…They are 10-10 in their last 20 games, but still an MLB-best 42-17 (.712) since 7/2.
>>> The Red Sox lead the Yankees by 8.0 games…Their magic number to win the AL East is 11.
CHASING HISTORY: At 98-46, the Red Sox would need to go 8-10 (.444) or better in their final 18 games to break the franchise's single-season wins record of 105 (1912).
>>> This is the 6th time the Red Sox have won 98+ games in a season, having also done so in 2004 (98-64, won WS), 1978 (99-64), 1946 (104-50), 1915(101-50, won WS), and 1912 (105-47, won WS).
FIRST IMPRESSION: Alex Cora could become the 1st manager to guide a team to 100+ wins in his 1st season with the club since Felipe Alou (2003 Giants, 100-61)…The last person to lead a team to 100+ wins in his 1st year as an MLB manager was Dusty Baker (1993 Giants, 103-59).
>>> The only manager to guide the Sox to 100+ wins in his 1st season with the club is Jake Stahl (105-47 in 1912).
CY OF RELIEF: Chris Sale, who last pitched on 8/12 at BAL, was activated from the 10-day DL today…He still leads the AL in ERA (1.97) and paces the majors in opponent AVG (.175), opponent OPS (.518), WHIP (0.85), and SO/9.0 IP (13.50).
>>> In his last 7 starts, Sale is 6-0 with a 0.20 ERA (44.0 IP, 1 R, 79 SO, 6 BB)…He has allowed 0 runs in his last 28.0 IP, matching his career high and marking MLB's longest scoreless streak of 2018…He has allowed 0 HR in his last 68.0 IP, the longest streak of his career and MLB's 2nd-longest of 2018 (Patrick Corbin, 73.2 IP).