POSTGAME NOTES
(32-10) Boston Celtics 91 vs. (24-16) Minnesota Timberwolves 84
January 5, 2018 – TD Garden
Game 42, Home Game 23
Team Stats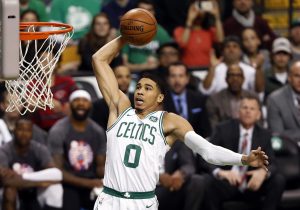 Tonight's 91-84 win marked Boston's fifth straight victory dating back to Dec. 27. The Celtics' 18 home wins are the most in the NBA this season.
Boston has now held its opponent to less than 90 points for the ninth time this season, tied with Utah for most in the NBA.
The Celtics have limited the opposition to less than 90 points in back-to-back games for the second time this season (Oct. 24-26).
The Celtics outrebounded the Timberwolves, 56-43, improving their record to a perfect 22-0 when finishing with more rebounds than the opposition.
Boston's 56 rebounds represent a new season high (55, 10/20 at PHI).
Aron Baynes (10), Daniel Theis (10), Kyrie Irving (9) and Terry Rozier III (9) all hauled in at least nine rebounds, marking the first time this season that Boston has had four players finish with nine or more boards.
Boston's bench outscored Minnesota's reserves, 42-20. Terry Rozier III (14 points) and Marcus Smart (18 points) combined to score 32 points on 14-of-24 shooting.
Boston held Minnesota to 38 points in the first half, matching the Timberwolves' lowest scoring half in any game this season.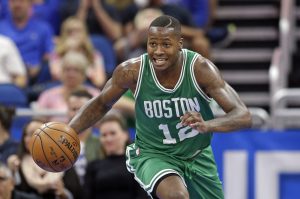 The Celtics improve to 15-4 when Terry Rozier III scores in double figures.
Individual
Terry Rozier III finished with 14 points on 6-of-11 shooting, and has now scored in double figures in a career-best six consecutive games. Rozier III is the first Celtics reserve to log six straight games of double-digit scoring since Evan Turner did so during the 2015-16 season.
Kyrie Irving (9 rebounds) has now hauled in 8+ rebounds in three consecutive games for the first time in his NBA career (Dec. 31 – Jan. 5).
Aron Baynes (11 points, 10 rebounds) recorded his second double-double this season (11/24 vs. ORL).
Al Horford dished out eight assists for his 16th game of 6+ assists this season. That ties DeMarcus Cousins for the most such games by a center in the NBA in 2017-18.
Marcus Smart finished with a team-high 18 points on 8-of-13 shooting, marking the seventh time this season – and the second straight game – in which he has totaled 15 points (BOS: 5-2).