POSTGAME NOTES
(37-15) Boston Celtics 103 vs. (23-29) New York Knicks 73
January 31, 2018 – TD Garden
Game 52, Home Game 27
Team Notes
The Celtics' 103-73 victory over New York represents their largest margin of victory this season (27, Nov. 1 vs. SAC – 113-86).
Boston held New York to 73 points, marking the lowest scoring total by a Celtics' opponent since the Knicks also scored 73 points vs. Boston on Dec. 8, 2013 (114-73).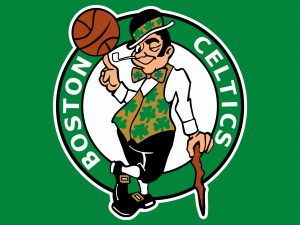 New York's 73 points represents the third-lowest scoring total in the NBA this season. The Celtics limited the Knicks to eight points in the fourth quarter on 3-of-20 shooting (0-7 3-PT), marking their lowest opposing point total in any quarter this season (11, 11/10 vs. CHA).
The Celtics' 12th game holding opponents to less than 90 points this season ranks first in the NBA (11-MIA, 9-UTA).
Boston's reserves combined to score 41 points on 60.9% shooting (5-9 3-PT). Marcus Morris led all scorers in the game with 20 points, while Abdel Nader added a career-high 10 points (7, 11/1 vs. SAC).
New York's 32.3% shooting mark from the field is the lowest shooting percentage by a Boston opponent this season (33.0% FG, Jan. 6 at BKN).
Individual Stats
Making his first career NBA start in his 165th career game, Terry Rozier III finished with 17 points, 11 rebounds and 10 assists for his first career triple-double. Rozier III's 11 boards and 10 assists are both career highs.
Via the Elias Sports Bureau, Terry Rozier III is the just the second player in NBA history to record a triple-double in his first career NBA start (since starters were listed on box scores in 1970-71). Tony Wroten is the only other NBA player to accomplish that feat (11/13/13).
Terry Rozier III is the first Celtics player to record a triple-double since Marcus Smart did so on Jan. 15, 2016.
Marcus Morris (20 points) has scored in double figures in each of his last nine games, marking his longest such streak since doing so a career-high 10 times across two seasons from April 8, 2016 to Nov. 9, 2016. Morris is averaging 14.6 points during this current nine-game stretch.
With 20 points tonight on 6-of-9 shooting (2-2 3-PT), Marcus Morris reached the 20-point mark for the second time this season (11/14/17 at BKN).
Jayson Tatum scored 11 of his 15 points in the second half on 5-of-7 shooting, and is now averaging 18.0 points in three career games against the Knicks.