By Mike Shalin
The third quarter was entering its final minutes at TD Garden Wednesday night. The Celtics were in control and a chant came out of the balcony.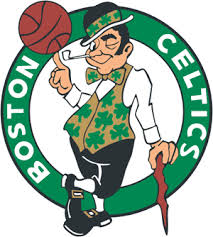 No, it wasn't the usual "M-V-P' cry for Kyrie Irving, although that could be heard a couple of times during the game. This one was for someone on the other team.
"We want I-T," they chanted.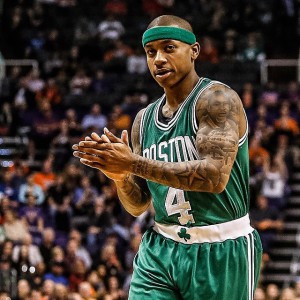 Isaiah Thomas was seated on the Cleveland bench in sweats. He had made his hip-delayed debut with his new team the previous night and wasn't going to play at all in front of his old fans.
Between the first and second quarters, he was shown on the big board and received a huge ovation.
This was a special night for the Little Big Man, but it was a night that would belong to his old team, not his new one.
The Celtics, winning for 31st time in 41 games, took control of the game early and never let go in ta 102-88 blowout that had LeBron James sitting out the fourth quarter.
"Setting the tone early," said Al Horford, who had 11 points and nine rebounds.
Irving didn't have a good scoring game, with just 11 points (snapping a string of 11 straight 20-point games) but added nine rebounds and six assists. Terry Rozier was the leading scorer with 20.
James had 19 points, seven rebounds and six assists and this game would have been completely out of hand had Kyle Korver not drilled five 3-pointers on seven tries.
So, the fans didn't see Thomas play – which, we assume, they will Feb. 11 on Paul Pierce Up To The Rafters Day – but they saw their team hammer the dreaded Cavs to even the season series.
Before the game, Thomas, who said "we're good" when asked about Danny Ainge, the man who traded him, said the experience was "weird."
"I almost walked that way – in their locker room!" he said. "No, it's all … I mean, I love this city. I love this organization. This is … they've given me the opportunity to be who I always wanted to be and I can't thank them enough. So there's no hard feelings to anybody in this city or anybody in this organization. And I'm glad I'm back.
"Like I always said, it's genuine love, and that's – that's for the rest of my life here."
The decision to play him Tuesday and not Wednesday night – the second half of a back-to-back – made sense. Given his competitive nature, the Cavs didn't need him making his debut Wednesday, with his adrenaline ramped up off the charts.
He played well Tuesday night. LeBron says the goal is to "give him the ball," and Thomas' ability to penetrate or shoot from deep will only help James down the road.
Asked if his life became easier Tuesday night, Thomas said, "I think so. I think if I was able to play after the trade, it wouldn't have been as crazy as it was. Just being – having to be able to sit down for four of five months after the trade, it was tough for me. Seeing everybody else play and not being able to be out there to compete with any type of team. So, to get that under my belt last night was like, one of the best days of my life. I felt like a basketball player again. I felt like I was somebody again."
As far as his special TD Garden moment, Thomas said, "Thirty-three points on my sister's birthday. That was probably the most special moment I've had here. It's been a lot of great moments in Boston, though. Like, my career skyrocketed here, and like I always say, they gave me the biggest opportunity I've ever gotten, and I can't thank them enough. So, I'm – that was probably the biggest moment, because it was just the toughest time of my life, but also one of the best games I've ever played."
His new team is deep – and Iman Shumpert and Derrick Rose are both rehabbing on their way back. There has been a rumor floating about that would send Shumpert and Tristan Thompson to the LA Clippers for big man DeAndre Jordan and you wonder what it would take for the Cavaliers to beat Golden State four times in a playoff series if the Warriors are healthy.
There has been talk Jordan could be a factor in keeping James in Cleveland after this season, when he can opt out and walk away from his hometown for a second time.