By Kevin Flanagan
BSD Senior Staff Writer
As the Bruins approached the break in their schedule prior to the NHL All-Star game and beyond, it was obvious by the lineup changes instituted by head coach Bruce Cassidy that the B's brass recognized that the lack of focus and physical fortitude displayed by his club needed to be addressed.
By Kevin Flanagan
BSD Senior Staff Writer
The once glowing embers of the hot stove that used to serve as fuel to get Red Sox fans through the dark and dank New England winters have now become a hot, steaming mess as the franchise that calls Fenway Park home heads into spring training as baseball's version of the headless horseman.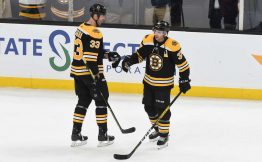 By Kevin Flanagan
BSD Senior Staff Writer
Let's face it, it is hard to argue over the numbers that head coach Bruce Cassidy's club has posted through nearly two-thirds of the season thus far, realists in the New England region recognize that this Bruins team – as currently constructed – would have an extremely difficult task getting back to the Stanley...
Read more
All Time Low rejoins the pop punk scene with their new single "Some Kind of Disaster", and this new mindset of self-awareness and ironic confidence born out of the rejection of fitting in is such a good vibe for this new decade.
With members Alex Gaskarth (vocals) and Jack Barakat (guitar) working on new side projects (Simple Creatures and...
Read more