BOSTON BRUINS HEAD COACH BRUCE CASSIDY PREGAME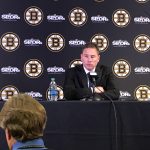 On having a good start…
Well obviously, we want to put our best foot forward, show that we're prepared to play and compete. I will say this, you can go over the years, Game Ones sometimes the winner of the game doesn't win the series and vice versa. But it is an opportunity to establish the way you want to play, dictate the pace and your style of play. That's how we're looking at it. At the end of the day, we want to win the hockey game obviously. That's it in a nutshell. Whatever happens we'll move onto Game 2.
On how the team is feeling after a couple days off…
Well it was nice to get two practices back to back, two meaningful ones. We practiced once probably in the last five, six weeks, practiced in Tampa once in the afternoon, practiced in St. Louis, maybe once at home – and those are in between games. I think we were able to get dialed in and focused at the task in hand which is Toronto. It was nice, I think we need it, it came at a good time for us. Guys kind of put the last few games behind us and started focusing on what was accomplished so far this year and what we need to continue to do to continue accomplishing good things. That was good for our group. With the exception of Riley Nash, we're a pretty healthy group. All the other players are available. Tough decisions going into the lineup. The guys we're not putting in are good players, but I think our guys are in a good place. But until the puck drops we'll find out.
On comparisons between the Bruins and Leafs playing styles…
Well, they definitely stretch out; they're more of a long-bomb type of pass team than we are to get out of their zone and through the neutral zone. We're more of a, probably, shorter, work to position type of team in terms of that. D-zone coverage, we're more layers, they play a more man-to-man than us. Their D is probably built more on mobility to get up the ice and join the attack. We have a mixture I think, good mixture, but probably a few heavier guys. Now, having said that, [Roman] Polak certainly plays a hard game. I think both teams can generate offense with team speed. I think their up-rink, it's well documented, their high-end talent, high-end draft picks. They are what they are. You give them time and space, they're going to hurt you. So, I think there's some similarities in the way the teams compete and the pace they want to play. The actual makeups of the team, there's differences. I guess the team that probably plays the game that usually this time of the year dictates the game and plays the way they want to play the best, usually ends up winning assuming the goaltending, special teams are a wash.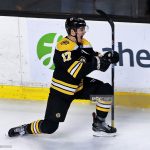 On Donato not playing…
Ryan Donato's not going to play tonight. Very [difficult]. Played very well for us. He's a guy that has shown he's not gonna shy away from the moments. We talked about having young guys in there, it's how they handle it. I think he would have handled it fine and will handle it fine when he gets in there. It's just a decision we made best fit for our lineup right now. With Riley Nash, who played a lot of center ice minutes for us, we have to make sure that we're protected, but we've got to make sure we're solid down the middle in terms of what if something else happens, how can we make those in-game adjustments. That was part of it. Ryan has played center, but not much at the NHL level. A lot of those things go into it. At the end of the day, Jake's healthy, a young winger; [Danton] Heinen, a left winger, has played well for us; Marchy [Brad Marchand]; [Tim] Schaller…so it's a bit of a positional thing as well. You take all those things…same with Gio [Brian Gionta], he's the anti-Ryan, been around a long time and gives you that solid veteran presence. At the end of the day, that's the lineup we chose. Game 2, we'll see how it plays out, hopefully it plays out very well. But you never know.
On the lines and pairings…
Marchy [Brad Marchand], [Patrice] Bergeron, [David] Pastrnak. [Jake] DeBrusk, [David] Krejci, Rick Nash. Heinen, [Noel] Acciari, [David] Backes. Schaller, [Sean] Kuraly, [Tommy] Wingels. Zee Chara, [Torey] Krug, [Kevan] Miller. Grizz [Matt Grzelcyk, [Adam] McQuaid. [Tuukka] Rask, [Anton] Khudobin.
On Charlie McAvoy…
Well, he's grown in the obvious areas. I think he's more of an offensive threat. He's willing to handle the puck more, better composure. I think when he came in last year, he just wanted to make a good first pass, defend hard, and you know, he's gotten a full trip through the league, so he knows probably what he can get away with a little more, when he can take chances. So I think you're starting to see his offensive game grow, and I think that'll continue to grow into the playoffs, but into next year an even bigger growth there. But, last year, I've got to tell you, for a kid that came in, he was pretty impressive in every aspect of his game for a guy that played a few games down in Providence.
On McAvoy's first days in pro hockey…
I went and watched him in Providence, found that some of the things he did down there were going to translate into the NHL, in terms of separating from a forechecker, making a good first pass. And then being able to be strong on pucks in battles, so I didn't know how good he was going to be, but you could see there was probably going to be, because of the IQ and his strength, to be able to do some of the things he did down there. We didn't know how much, and it was only, like I said, a short sample size down there. It worked out well. Then, the things you get from the outside of, wow this kid rises up, those are intangibles you don't know until you see with your two eyes, and he certainly did that.