BOSTON BRUINS HEAD COACH BRUCE CASSIDY
On Patrice Bergeron…
He looked good this morning. He was fine pregame skate, so I anticipate he'll play, but we will make that decision after warm-up, but it is looking good.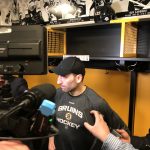 On playing in an elimination game…
Well if they watched games last night, which we did address, we try to stick to the game in front of us but two teams that went to the Stanley Cup Final last year couldn't close out. So, it's difficult. We talked about how it's hard to win in this league. It's especially hard to win in the playoffs. I think they are aware of it. Hopefully they don't over think it, just go out and play and play the we need to need to play and to have success.
On if Riley Nash's role changes when he plays on different lines…
Well he's got more dynamic wingers. No disrespect to Danton and David [Backes] but they just are who they are. Pasta [David Pastrnak] and Marchand, so you want to get the puck to those guys as much as possible. Their speed will allow them to anticipate certain plays, so Riley is a little more of a safety valve like Bergy at times for quick strike plays or transition. So, I think he will definitely think that way when the other guys are more of a straight line as a linear attack. But at the end of the day, overall, no. Two hundred-foot game. Be good in the faceoff circle, probably playing against a good player. Do your job defensively and add some offense and that's it.
On switching defense pairs early in Game 4….
We got scored on. That's what happened to really be honest with you. I just thought that maybe that balancing pairs on the road in case we got stuck with a bad matchup, at the end of the day. Grzelcyk was coming back from with a bit of an injury and, you know, put him with Kevin [Miller], they have had good success and Torey with McQuaid was just a gut instinct move to have a little bit better balance.
On if he liked the result after switching defense pairs…
After that I did. We didn't get scored on and if that had anything to do with that I don't know but at the end of the day, that's part of it. Get their attention. We need to tighten up a little bit I thought in game 3 in Toronto they were out there victimized a little bit, Krug and Miller, so maybe just needed a brea