BOSTON BRUINS HEAD COACH BRUCE CASSIDY
On whether Tommy Wingels will play instead of Tim Schaller…
Yes. Timmy's played well for us, and so has Tommy, so at the end of the day, Tommy's got some experience. He provides physicality. I think we're a little short on that up there, so it's a small swap. They both kill penalties — it's just a bit of, got to make sure, you know, we're not completely comfortable and we get the urgency we require, because I think we lack some of that up there at times — certainly not both games all 60 minutes, but at times, and we need to bring it tonight. Wingy can help us with that.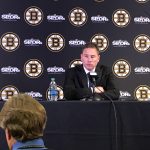 On switching Riley Nash and Sean Kuraly…
Yeah, they both played against good players most of the year. We tend to go back to where we started, give them the opportunity to play, and play well, so we'll look at that tonight. In game, we've made a lot of adjustments on the fly — whatever's necessary. If we feel that that's going to help us be better, we're going to try to do it, and if that's one of them, it could come into play.
On changing up the penalty kill tandems…
Well, they're not always fluid anyway. I mean, we've used — some of that was a product of who was in our lineups throughout the year. Nash and Schaller have played a lot together. We don't mind Kuraly and Riley Nash either. They've had some work, and then Kuraly and [Noel] Acciari. Rick Nash will get more work now, and Tommy has killed penalties, but I can't tell you if he's got chemistry with anybody because he got here at the deadline, and you know, he's been with a bunch of different guys. The one constant is Bergy [Patrice Bergeron] and March [Brad Marchand]. For the most part, they'll stay together. They other two pairs will depend on, you know, time of the score, is it a change on the fly, you know, do we need to keep two faceoff guys in case Bergy's tired and it's Nash and Kuraly going out for a draw, take each centerman — those are the things that come into play.
On if he's discussed Patrice Bergeron's faceoffs…
No, no we haven't addressed that, but I assume that the linesmen on the ice will, you know, talk to the players, and hopefully they'll follow suit. We'll do whatever's necessary. I find teams are now creeping in, and we've lost a bit of that. At the start of the year, they were holding you accountable for being outside the circle, and we've seen a little more of that, so I don't know if that's part of the reason they're throwing them out, necessarily. They always assign them, but the guys are creeping in.
On whether Tampa has been speaking to the officials about the faceoffs…
Yeah, obviously it could be. You'd hope that just because somebody voices an opinion on something — I mean, if he's legally not doing it properly, then he's out, right? I guess that's what we're looking for. If he's been directed at it a certain way, whatever center it is, and they don't follow the directive, then that's it. You hope it's something as simple as that. We'll see tonight, I guess. If that trend continues, then we'll have to look a little further into it.
On the weather…
Beautiful day, isn't it? Playoff hockey weather, finally, in Boston.
On adapting to the ice conditions…
Well, the adapting part is understanding that the one-touch plays sometimes aren't there as much because pucks are hopping around, and you've got to simplify a little when you get a good, flat puck under your stick. Maybe that's the time to move it or shoot it. The other way is to put the other team in bad spots in terms of forcing them to move the puck under duress with bad ice, and that's when it bounces, so that's when turnovers happen. So, a little more, you know, puck pursuit-oriented tonight in terms of forecheck, neutral zone. We've got to use our legs more and check with our legs more. I don't think we did nearly enough of it out there. You know, the second period, we finally got going the other night a little more, the end of the first, and you could see it. The games shift, you know, from their favor in the first 10 minutes, and then it went our way because I think we just started skating more and put more stress on them. Eventually, you know, we forced some turnovers, and you hope that's the idea. So, that's what, I guess, the adaptability part will be. Other than that, you play, control your own environment, so if the ice is not conducive to making good plays or making a lot of plays, don't make a lot of plays. Keep it simple, right? So, that's the message, you know, we'll be in. The players have been through this, especially our veteran guys, here in Boston and on the road, so hopefully they catch up all right.