Bye, Bye, Bye
by Kristy Spinelli, BSD Correspondent
FOXBOROUGH, MA – When the Patriots said good-bye to back-up quarterback Jimmy Garoppolo on Monday night, many were surprised that New England was leaving Tom Brady as the lone wolf on the team's roster.  The trade which will give the Patriots a second-round 2018 draft pick, came in exchange for the 25- year-old quarterback.  Just a few months ago in September the Patriots let Jacoby Brissett go in a trade to the Colts.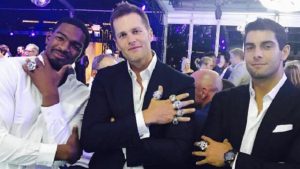 Jimmy was traded to the 49ers and will be a free agent eight games from now…hmmmmmmm.  Interesting days ahead, especially since the 49ers released Brian Hoyer, Brady's back-up quarterback in seasons 2009-2012.  Is this the Patriots back-up plan for Brady??  It is probably the most logical fit and reunion.
Bye week timing??  This is New England's 2017 bye week, perfect for coming off the close of the trading deadline and half-way to what the Patriots believe will be there chance at looking toward Super Bowl LII.  They can definitely use the extra rest time and regrouping since the season is half over, they are 6-2 but face the the toughest part of their schedule coming up.  They won't have the advantage of being on their home field either since there are only three games left at Gillette this regular season.  The Patriots are still on track to secure an AFC East title and still on pace to compete for a first-round playoff bye.
The Patriots resume play on November 12th when they head to Denver for Sunday Night Football against the Broncos.  They then head to Mexico City on November 19th playing the Oakland Raiders.  Towards the end of November, they enjoy a quick return to Foxborough for a post-Thanksgiving afternoon game against the Miami Dolphins before a grueling three straight games away, paying visits to Buffalo, Miami and Pittsburgh.  The Patriots then make the final trip home of the regular season when they play against the Buffalo Bills at home on Christmas Eve, and then the New York Jets on New Year's Eve.
Belichick is giving the team some days off this week in reward of their hard work these past three months and is only holding one practice during their bye which will come today.  They had this past Monday and Tuesday off, work today, and then have the remainder four days this week off.  This is a welcomed rest…not just physically but mentally.
"That bye week is really a chance to re-evaluate where you're at," Brady said.  This is where the Patriots are at…6-2 and atop the AFC East standings, tied for the best record in the conference.
Brady went on to say, "I'm not sure what we have planned, but I'll be thinking about Denver.  I'll be thinking about football season.  It's an important time of year…getting away physically from the game, but mentally you're still into it.  I think we have to think about all the things as players we need to do a better job of.   I certainly think of all those things.  I'm sure after eight weeks you can figure our trends for your team and what we do well and what we don't do well.  We have to identify those things, which our coaches always do a great job of and hopefully we can play our best football.  At 6-2, we've put ourselves in a decent position.  We're not 8-0, but we're not 0-8.  Hopefully we can really capitalize down the stretch and go play really well against some really good teams."
SO, this has been quite the last few weeks for the Patriots…saying "bye" to back-up quarterback Garoppolo in a trade, lost Brady's go-to-receiver, Julian Edelman, and their defensive leader, Dont'a Hightower to season-ending injuries.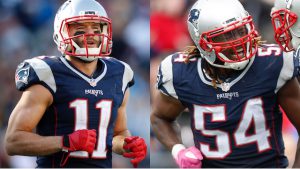 Here at Boston Sports Desk, we are wishing Jimmy Garoppolo the best.   He has been a great teammate and we have enjoyed covering his time with the Patriots.  Our thoughts and prayers continue for Edelman and Hightower, for full and complete recoveries…we know they would love nothing better than to be out there on the field doing what they do best!