BOSTON BRUINS VS BUFFALO SABRES
PRESS BOX PREGAME NOTES: FEBRUARY 10, 2018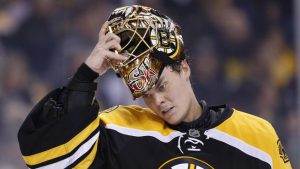 PROJECTED STARTING GOALTENDERS: Tuukka Rask (22-8-4, 2.09 GAA, .925 Save %) vs. Chad Johnson (2-9-3, 3.67 GAA, .884 Save %). Rask is 13-5-1 with a 2.06 GAA, .934 Save % and one shutout in 21 career games against the Sabres. Johnson is 3-2-1 with a 2.33 GAA and .930 Save % in six career games against the Bruins.
BROADCAST INFO: Today's game will be broadcast regionally on television on NESN and on the radio at 98.5 The Sports Hub. It can also be live streamed regionally on the NESNgo App and NESNgo.com. Puck drop is set for 7:10 p.m. ET.
CHINESE CULTURAL NIGHT: Tonight, the Bruins will host Chinese Cultural Night presented by O.R.G. Packaging. Mr. Zhou Yunjie, chairman of O.R.G. Packaging, will be on hand to participate in the ceremonial puck drop. The Bruins recently welcomed over 30 Chinese youth hockey players from the A.Z. Ice Sport Hockey Club from Beijing, China this past week as part of Bruins Global 2018 presented by O.R.G. Packaging. This marks the third year that a group of Chinese youth players have traveled to Boston as part of the partnership with O.R.G Packaging, which began in 2015. The group of Chinese youth hockey players will be in attendance for the game and will participate in several in-game experiences such as Three Minutes of Fame, high five line, bench assistants and ice resurfacer rides. Fans will be given Chinese "Go Bruins" signs upon entering through the turnstiles, and there will be a Chinese calligraphy station and a traditional Chinese New Year Lion Dance performance on the concourse. When the Bruins starting lineup is announced, players' names will be displayed in Chinese. For more information on Chinese Cultural Night, please see the accompanying release on the media materials table on Level 9.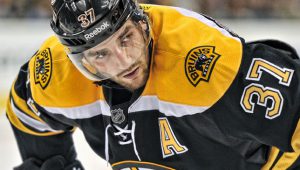 PUCKS AND PADDLES: The first annual Patrice Bergeron & 98.5 The Sports Hub's Pucks and Paddles will be held at Royale Boston (279 Tremont St, Boston, MA 02116) on Thursday, February 15 from 4:00 p.m. – 7:00 p.m. The tournament will feature players from the active Boston Bruins roster, on-air personalities from 98.5 The Sports Hub, and patients from Floating Hospital for Children at Tufts Medical Center. The event will feature a single elimination tournament featuring Bruins players, on air talent and the winning bidders. For more information on the event, please visit https://www.nhl.com/bruins/community/foundation-pingpong.
TUUKKA TIME: Goaltender Tuukka Rask has earned a point in each of his last 21 starts at 19-0-2, a career-best point streak. He has a 1.61 GAA, .940 Save % and two shutouts in that span. It is the fourth-longest point streak by a goaltender in team history and is the longest since Pete Peeters' 31-game stretch in 1982-83 (26-0-5).
ROOKIES ROLLING: Bruins rookies have scored 39 goals this season (22.9%), which is tops in the NHL. Arizona is second in the league with 32 rookie goals.
MATCHUP HISTORY: The Bruins host the Sabres tonight for the third of four games between these teams this season and the second of two this season at TD Garden. The Bruins have taken points out of their last nine games against the Sabres at 8-0-1, and they are 13-1-3 in their last 17 games overall against the Sabres, with their lone regulation loss in that span a 6-3 home setback on Dec. 26, 2015.
366 AND COUNTING: Following their game vs. Toronto on February 3, the Bruins have sold out 366 consecutive regular season and playoff games at TD Garden. Their last non-sellout was on December 2, 2009, when they hosted the Tampa Bay Lightning and drew 16,553.
SABRES NOTEBOOK: Jack Eichel leads the team in all offensive categories with 22 goals and 31 assists for 53 points… Goaltenders Robin Lehner and Chad Johnson have combined to stop 203 of the 213 shots (.953) they have faced at even strength in Buffalo's last eight games… Defenseman Rasmus Ristolainen ranks third in the NHL with 26:29 TOI/game… Ryan O'Reilly leads the league with 786 faceoff wins and a 61.6% faceoff win percentage.
SPECIAL TEAMS: Bruins power play: 35-for-159 (22.0%, 6th NHL), Bruins penalty kill: 126-for-152 (82.9%, 4th NHL)… Sabres power play: 28-for-165 (17.0%, 23rd NHL), Sabres penalty kill: 124-for-159 (78.0%, 24th NHL).