BOSTON BRUINS VS EDMONTON OILERS
PRESS BOX PREGAME NOTES: OCTOBER 11, 2018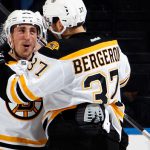 PROJECTED STARTING GOALTENDERS: Jaroslav Halak (1-0-0, 1.29 GAA, .960 Save %) vs. Cam Talbot (0-1-0, 4.07 GAA, .846 Save %). Halak is 8-3-2 with three shutouts, a 2.12 GAA and .909 Save % in 14 career games against the Oilers. Talbot is 5-2-0 with a 2.72 GAA and .922 Save % in seven career games against the Bruins.
START TIME CHANGED FOR SATURDAY: The start time for the Boston Bruins vs. Detroit Red Wings game on Saturday, October 13, has been changed to 3 p.m. ET. The game was originally scheduled for a 7 p.m. ET start, but was moved to avoid conflict with Game 1 of the American League Championship Series, between the Boston Red Sox and the Houston Astros at Fenway Park on Saturday, October 13 at 8:09 p.m. ET.
BERGY'S HAT TRICK: Patrice Bergeron scored three goals in Monday's home opener against the Ottawa Senators. It was the sixth time in franchise history that a Bruins player has scored a hat trick in the home opener, with Bergeron joining Carson Cooper (1926-27), Phil Esposito (1973-74), Rick Middleton (1976-77) and Cam Neely (1994-95 and 1995-96).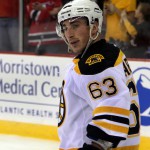 APPLE PICKING: Brad Marchand ranks second in the NHL with seven assists through three games this season. He matched his career high with four assists in the team's 4-0 shutout win against Buffalo on October 5, and then added three assists in the team's 6-3 home opening win against the Ottawa Senators on October 8. 
MATCHUP HISTORY: The Bruins host the Oilers tonight in the first of two games between these teams this season and the Oilers' lone game at TD Garden this season. These teams will conclude their season series in Edmonton on October 18. The Bruins are 14-3-3 in their last 20 games overall against the Oilers. 
386 AND COUNTING: Following their game vs. Ottawa on October 8, the Bruins have sold out 386 consecutive regular season and playoff games at TD Garden. Their last non-sellout was on December 2, 2009, when they hosted the Tampa Bay Lightning and drew 16,553.
OILERS NOTEBOOK: This is just the second game of the season for the Oilers, who lost their season opener, 5-2, against the New Jersey Devils in Gothenberg, Sweden on October 6… Leon Draisaitl, Milan Lucic and Connor McDavid all had multi-point games in the loss… 18-year-old defenseman Evan Bouchard, the 10th overall pick in last June's NHL Entry Draft, started his first career NHL game and finished with 13:57 TOI and two hits… General Manager Peter Chiarelli and forward Milan Lucic both helped lead the Bruins to a Stanley Cup win in 2011… Bruins goaltending coach Bob Essensa played for the Oilers from 1996-99. 
SPECIAL TEAMS: Bruins power play: 2-for-5 (40.0%, 5th NHL), Bruins penalty kill: 7-for-11 (63.6%, T-29th NHL)… Oilers power play: 1-for-4 (25.0%, T-12th NHL), Oilers penalty kill: 1-for-2 (50.0%, 31st NHL).