BOSTON BRUINS VS TORONTO MAPLE LEAFS
PRESS BOX PREGAME NOTES: NOVEMBER 11, 2017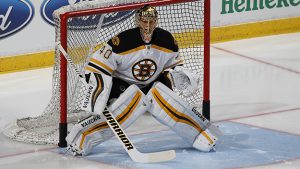 PROJECTED STARTING GOALTENDERS: Tuukka Rask (3-4-2, 2.76 GAA, .903 Save %) vs. Curtis McElhinney (1-1-0, 4.10 GAA, .869 Save %). Rask is 15-5-2 with a 2.07 GAA, .927 Save % and two shutouts in 25 career games against the Maple Leafs. McElhinney is 2-2-0 with a 2.10 GAA and .934 Save % in five career games against the Bruins.
BROADCAST INFO: Today's game will be broadcast regionally on television on NESN, as well as on the radio at 98.5 The Sports Hub. It can also be live streamed regionally on the NESNgo app and NESNgo.com. The game will also be broadcast on Sportsnet in Canada as part of "Hockey Night In Canada."
NOVEMBER MILITARY INITIATIVES: Throughout the month of November, the Bruins have celebrated our men and women in uniform through a series of initiatives. Things kicked off with a special luncheon at Warrior Ice Arena, during which several Bruins got to spend time and share stories with over a dozen World War II veterans. The Bruins teamed up with March of Dimes for a military baby shower for 45 parents to be. TD Bank and the Bruins surprised U.S. Marine corps veteran James Crosby with an invitation to Military Appreciation Night, where he enjoyed the game from the TD Bank Suite. On Military Appreciation Night, World War II veterans and brothers Ramo and Hugo Riva dropped the ceremonial first puck. During warmups, the Bruins donned camouflaged spoked-B jerseys. To show their support for the armed forces, Bruins Noel Acciari, David Backes, Brandon Carlo, Torey Krug, Kevan Miller, Tim Schaller and Frank Vatrano each purchased $2,500 worth of tickets to the B's game versus the Wild for local military members and their families. B's goalie Anton Khudobin visited Hanscom Air Force base to sit in on some military canine training. The Bruins salute all of our men and women in uniform, and thank them for their service.
EASTERN CONFERENCE BLUES: Thus far in the 2017-18 season, the Bruins are winless (0-2-3) against teams in the Eastern Conference. They lost in regulation to the Capitals (Nov. 4) and Rangers (Nov. 8), in overtime to the Sabres (Oct. 21) and Maple Leafs (Nov. 10), and in a shootout to the Blue Jackets (Oct. 30).
LOGGING MINUTES: Patrice Bergeron (21:34) and Brad Marchand (21:31) rank fifth and sixth amongst NHL forwards, respectively, in time on ice per game.
KRUG STEPPING UP: Torey Krug comes into tonight's game on a seven-game point streak, posting two goals and six assists over that span. The B's puck-moving defenseman had managed just one goal and one assist through his first eight games of the year, but has since been a plus-three rating to go along with his nightly point production.
MATCHUP HISTORY: The Bruins welcome the Maple Leafs to TD Garden for the first time this season for the second of four matchups against Toronto. The Leafs took the first meeting of the season last night in overtime, 3-2, at Air Canada Centre. It was their fifth straight victory against the B's, after sweeping last season's series four games to none.
347 AND COUNTING: Following their win vs. Minnesota on November 6, the Bruins have sold out 347 consecutive regular season and playoff games at TD Garden. Their last non-sellout was on December 2, 2009, when they hosted the Tampa Bay Lightning and drew 16,553.
MAPLE LEAFS NOTEBOOK: Toronto will be without 2017 Calder Trophy winner Auston Matthews (upper body) for the seventh straight game… Matt Martin will be playing in his 100th game as a Leaf… The Leafs will be looking for their fourth straight win, which would be a new season high… Nazem Kadri is tied for ninth in the NHL in goals (9)… As a team the Leafs are second in the NHL in scoring with 68 goals this season.
SPECIAL TEAMS: Bruins power play: 12-for-51 (23.5%, 6th NHL), Bruins penalty kill: 42-for-48 (87.5%, 3rd NHL)… Maple Leafs power play: 13-for-56 (23.2%, 7th NHL), Maple Leafs penalty kill: 47-for-59 (79.7%, 19th NHL).