BOSTON BRUINS VS TORONTO MAPLE LEAFS
STANLEY CUP PLAYOFFS FIRST ROUND, GAME 1
PRESS BOX PREGAME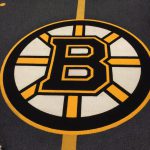 PROJECTED STARTING GOALTENDERS: Tuukka Rask (34-14-5, 2.36 GAA, .917 Save %) vs. Frederik Andersen (38-21-5, 2.81 GAA, .918 Save %). Rask is 16-7-2 with a 2.14 GAA and .925 Save % in 28 career games against the Maple Leafs. Andersen is 10-1-0 with a 2.09 GAA and .935 Save % in 11 career games against the Bruins.
BROADCAST INFO: Tonight's game will be broadcast regionally on television on NESN and on the radio at 98.5 The Sports Hub. It will be broadcast nationally on NBC Sports Network in the U.S. and on Sportsnet (English) and TVA (French) in Canada. It can also be live streamed on the NESNgo App, NESNgo.com and NBCSports.com. Puck drop is set for 7:10 p.m. ET.
FAN BANNER: Bruins legend John Bucyk and a special guest will serve as honorary fan banner captains for tonight's game. The giant Bruins flag has been traditionally passed by fans before all Bruins playoff games since 2009. In past seasons, inspirational figures including Bruins legends, first responders, individuals affected by the 2013 Boston Marathon bombing and others have served as honorary captains to start the banner's trip around TD Garden's Loge section. This season the honor will go to various Boston Champions who are deeply connected to the city and the greater New England community.
HUMBOLDT SUPPORT: The Boston Bruins and the Boston Bruins Foundation have two fundraising initiatives currently underway to help support those affected by the Humboldt Broncos tragedy. The first initiative is an online raffle for an entire suite for Game 2 of the 2018 Stanley Cup Playoffs on Saturday, April 14 at 8:00 p.m. Fans can purchase tickets by visiting bruinsraffles.org. In addition, the Boston Bruins Foundation will be hosting the 50/50 raffle during tonight's game, with all proceeds being donated to support the Humboldt Broncos community. The 50/50 winner is guaranteed to win at least $25,000. The raffle is live online and fans can purchase raffle tickets by visiting bruins5050.org (Please note in order to purchase tickets online, fans must be physically in the state of Massachusetts at the time of purchase). The Boston Bruins and Boston Bruins Foundation have pledged to donate a minimum of $50,000 to the Humboldt community through these efforts.
PLAYOFF DEBUTS: Jake DeBrusk, Ryan Donato, Matt Grzelcyk, Danton Heinen and Anton Khudobin are looking to play in their first Stanley Cup Playoff games.
MATCHUP HISTORY: The Bruins and Maple Leafs are meeting for the 15th time in the playoffs. The only team that Boston has played more series against is Montreal (34). The Bruins are 6-8 all time in series vs. Toronto with their last meeting a 7-game Boston win in the 2013 Eastern Conference Quarterfinal. Boston became the first team in NHL history to win a Game 7 when they had trailed by three goals in the third period when they defeated Toronto on May 13, 2013.
379 AND COUNTING: Following their game vs. Florida on April 8, the Bruins have sold out 379 consecutive regular season and playoff games at TD Garden. Their last non-sellout was on December 2, 2009, when they hosted the Tampa Bay Lightning and drew 16,553.
MAPLE LEAFS NOTEBOOK: The Maple Leafs were 3-1-0 during the regular season against Boston… Mitch Marner led the way in those matchups with three goals and six assists… Toronto boasts a stable of Top-10 draft picks in their lineup, including Auston Matthews (1st overall, 2016), Mitch Marner (4th overall, 2015), William Nylander (8th overall, 2014), Morgan Reilly (5th overall, 2012), and Nazem Kadri (7th overall, 2009)… James van Riemsdyk paced the Leafs in goals (36) while Marner led the way in assists (47) and points (69) this season.