BOSTON BRUINS VS MONTREAL CANADIENS
PRESS BOX PREGAME NOTES: MARCH 3, 2018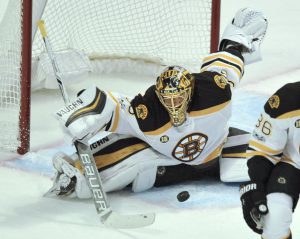 PROJECTED STARTING GOALTENDERS: Anton Khudobin (13-4-4, 2.41 GAA, .919 Save %) vs. Antti Niemi (4-6-2, 3.53 GAA, .897 Save %). Khudobin is 0-4-0 with a 3.54 GAA and .865 Save % in four career games against the Canadiens. Niemi is 6-4-0 with a 2.20 GAA, .912 Save % and one shutout in 10 career games against the Bruins.
BROADCAST INFO: Today's game will be broadcast regionally on television on NESN and on the radio at 98.5 The Sports Hub. It can also be live streamed regionally on the NESNgo App and NESNgo.com. It will be broadcast nationally in Canada on Sportsnet (English) and TVA (French). Puck drop is set for 5:10 p.m. ET.
GIRLS HOCKEY DAY: The Boston Bruins will host the second annual Bruins Girls Hockey Day on Sunday, March 4 at TD Garden. The day's events will kick off at 8 a.m. and will see over 400 participants from across New England skate on TD Garden ice for seven straight hours of hockey. Special guests throughout the day will include members of the Boston Blades, Boston Pride, and Bruins Alumni Andy Brickley and Tommy Songin. They will lead on-ice clinics as well as a Q and A session.
BATTLE OF THE BADGES: Following the Girls Hockey Day events on Sunday, March 4, the Bruins will host the second annual Battle of the Badges hockey game at 4:30 p.m. The Boston Fire Hockey Club and the Boston Police Hockey Club will face off to raise money for the Boston Firefighters Burn Foundation and Franciscan Children's. Last year, the Boston Fire Hockey Club won the inaugural Battle of the Badges game and raised $20,000 for the Boston Bruins Foundation.
RICK ROLLING: Since being acquired by the Bruins, Rick Nash is tied for fifth in the NHL with 15 shots on goal in three games. The 6-foot-4, 220-pound winger has two goals and one assist in those appearances while averaging 16:31 TOI/game.
SQUAD GOALS: The Bruins set a season high with eight goals in their 8-4 victory over the two-time defending Stanley Cup Champion Pittsburgh Penguins on Thursday night at TD Garden. It is tied for the third-most goals scored by a team this season, with only Montreal and Chicago (10 each) scoring more in 2017-18.