ML WAS -118  OPEN: -120            OVER / UNDER   5.5                WAS -1.5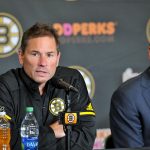 With the start of the NHL tonight, I've decided to try and put Organized Crime out of business with some spectacular prognosticatipon about the outcome of Bruins games this season. I'll be placing wagers on  every Bruins game this season or until I've sufficiently bankrupted BSD…..which ever comes first….
I'm going to start my bank roll with $1000 and see where I can take it. All picks will be made against the spread or money lines as posted the day of the game.
Let me know your thoughts on picking "skills"…..This should be fun……Go……
Tonight I am wagering $200 on the Caps giving -1.5 goals and another $200 on the Over 5.5…..
Caps are raising their Stanley Cup winning banner tonight…..I think the Caps will use that emotion well and handle the Bruins easily in this  game.  Could be a great learning experience for the Bruins second-year guys who will witness the event first hand…….
Bank roll currently $1,000