Bottom Six Forward Issue; Vatrano in Danger?
By Jarrett Howland
BSD Correspondent
With just one preseason tilt left on the docket for the Boston Bruins minimal roster clarity has been achieved. Though that's not necessarily a bad thing, virtually zero of the team's roster hopefuls seized a glorious opportunity to lock down a spot during the 5-1 drubbing suffered at the hands of the Philadelphia Flyers.
In fact, the one aspiring Bruins forward to crack the scoresheet in the contest (Kenny Agostino) woke up Friday only to find out he'd been placed on waivers. With it getting down to crunch time for the Bruins opening night roster and the final version due into the league offices by Tuesday afternoon, Frank Vatrano might just be in jeopardy of not making the cut.
Let's Be Frank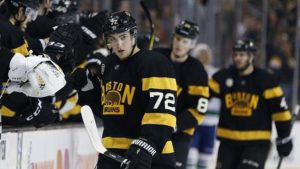 Even before training camp commenced, this figured to be a crucial season for Vatrano. Competition for a roster spot was to be fierce and he's on the last year of his entry-level contract. The excuses, for lack of a better term, that had previously existed were no longer relevant. No longer could the lapses in judgement, positioning or play be ascribed to being a rookie, or being on the mend from injury.
To this point, Vatrano has yet to distance himself from the competition. Vatrano has been pretty average in the competition for a third-line spot. The East Longmeadow native has registered zero points, eight shots and a minus-one rating. Vatrano has been outplayed to this point by Anders Bjork and Jake DeBrusk. Both appear to be destined to at least begin the regular season within Boston's top nine, if not top six. Matt Beleskey looks recharged and healthy following last season's torn MCL.
Sean Kuraly, Riley Nash, Noel Acciari and Timmy Schaller all fit the mold of bottom six forwards who play a heavy game and are capable of killing penalties. Even Austin Czarnik (a natural center) has looked significantly more explosive and versatile. And dare we mention after missing nearly the entire Bruins training camp, the young Slovakian winger Peter Cehlarik who's finally shed the red, non-contact jersey. The Bruins are expected to put an emphasis on penalty-kill candidates given the mass number of face-off/slashing penalties in the preseason. That spells trouble for Vatrano as a sometimes power-play performer, but definitely not a guy who's been used extensively on the PK unit in his pro career. Instead, it might give bigger, grittier players Schaller and Kuraly a better chance of securing those final few roster spots and leave Vatrano excluded from a Bruins roster where he was thought to be a lock entering camp.
Boston's best course of action is to start the season with Vatrano in Boston. Rather than risk losing him for nothing, a short leash on the third-line is preferable. Even beginning the campaign as the thirteenth forward is better than losing him or sending him back down. He may not currently be the most deserving candidate for a spot. However, with Sean Kuraly (the likely 14th forward in this scenario), Danton Heinen, Peter Cehlarik, Jakob Forsbacka-Karlsson and Austin Czarnik all being exempt from waivers and currently representing, at best, a marginal upgrade from Vatrano, losing him for no return seems wholly unnecessary.
Let him play his way out of this funk, or let one of the aforementioned forwards render his services obsolete.