BOSTON BRUINS HEAD COACH BRUCE CASSIDY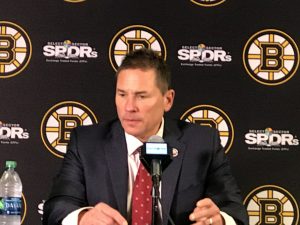 On the Bruins power play…
Well, we executed better. We've talked about that. That's a start, right? You make good passes and you win pucks, you're playing in the O-zone, and you're forcing the team to defend, so I think that's the start of it. We made some great heads-up plays like, the [Nick] Holden play to Krech – that's not one you practice; that's a broken play where you win a puck – Jake DeBrusk does a great job winning a puck. We talked about it, I think this morning, one of the specifics was second effort. That's a second-effort play, winning the puck, and then you allow your skill to take over, and he makes a great play. So, you know, that's an example of what we had asked the players to do a little better job at, and I thought they did. We had a few passes that didn't connect that were maybe forced, but I think that's always going to happen when you have – what did we have, five? But, for the most part, I thought we made better decisions with it, as well. So, good for them; they got rewarded. We have plenty of skill in there. They can score, and I thought we had more urgency tonight.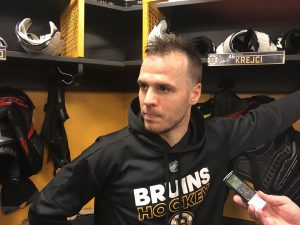 On David Krejci's chemistry with Rick Nash…
Well, I mean David had some of his best years here playing with Looch [Milan Lucic] and [Nathan] Horton and [Jarome] Iginla, so he is used to having big, heavy guys who will get to the net. No disrespect to Ryan Spooner because we asked him to do something out of his comfort zone; I thought he did a good job. But, we said this before – he wasn't going to grow six inches here. Jake is doing a good job with that. he has a lot of Nash's attributes – not as big a man, obviously, but he does like to get to the net, and he has good foot speed. He's now got two wingers that have some similar traits that he seems to excel with. Nash is a good defensive player, so he will help whoever centerman he is with, kill some plays in the zone because of his reach and his hockey IQ, so it's been a good marriage so far.
On Nick Holden…
He was good. He made plays. He doesn't over handle pucks. What I liked about him is, what I was told about him is what he was. He moves the puck in a hurry to a good spot, he gets into his gap, he gets in the way of players without being this ferocious type of player, but he is hard enough that he is not easy to play against and will periodically make some good offensive – you saw it with Krech. So, he'll help us with the power play; he is not afraid to shoot. Five-on-five, he is a big body, a different flavor than what Grizz [Matt Grzelcyk] gives you, so it's great to have options, and good for him. He wanted to get in there, obviously, sooner. We talked to him about that, but I thought he had a nice first impression, as did [Brian] Gionta.
On if there was a discussion about taking Tuukka Rask out after the first…
No. Zero. Tuukka has to play through some of these games. If he was fatigued in terms of his workload of late, we would look at that, but it's just, right now, he had a stretch there where everything was like a beach ball to him, I think. Now, there's some goofy ones from odd angles. The last goal, I don't think any goalie is stopping that, it's ping-ponging around. So, he's just going to have to fight his way through it a little bit here and find his game. We've been fortunate enough to score four the other night and eight tonight, and that's just part of it for him, too. If there was an injury or something there, we would talk to him and give him some rest, but it's just a part of the year where, again, he'll have to find his focus, find his game, work with Goalie Bob [Essensa], and hopefully he comes out of it. The good news is we're winning.