After a very difficult battle with Lyme Disease and some serious soul-searching, the angsty punk princess of the 2000s is back and stronger than ever with her new single "Head Above Water".
Avril Lavigne has been on the scene since her breakout hit "Complicated" off of her debut album Let Go in 2002, and she's followed that up with monster hits since then, with juggernaut anthems like "Sk8er Boi", "I'm With You" (off of that same album), and sassy satire "Girlfriend" (off of The Best Damn Thing released in 2007). Avril also released albums Under My Skin (2004), Goodbye Lullaby (2011), and self-titled Avril Lavigne (2013).
Thanks to her, girls everywhere in the 2000s wore cargo shorts with white fitted tank tops, loose neckties, and backwards baseball caps. Or the frillier ones settled on her black and pink tutu look that a very pensive Avril rocks while mulling over a relationship from the solitary comfort of an empty movie theater as seen in the "Happy Ending" music video. Avril Lavigne has become a cultural mainstay for angsty girl-power globally, and her vibrato-laden vocals have been gracing the ears of fangirls (and boys) alike since her debut.
She even launched her own fashion line in 2008, known professionally as Abbey Dawn. As if taking the music world by storm wasn't enough, Avril had also infiltrated the dressers and wishlists of every preteen in America (and beyond). Bringing her own fragrances also into the mix, Avril transformed herself into a cultural lifestyle brand practically overnight.
Given all her vast success with five albums to her name, fans were understandably distraught when disaster struck in 2014 with her Lyme disease diagnosis. The artist who had been so strong for so many people, singing anthemic ideals like "Here's to Never Growing Up" and "Rock and Roll" was now bedridden, and fighting for her life. She didn't reveal the details of her diagnosis until after the fact, however – which goes to show how brave and humble she truly is. All the fans knew was that she "wasn't feeling well", and her lack of music produced between 2013 and now (aside from a few rogue songs here and there – such as her 2015 song "Fly" featured by the Special Olympics – while she recovered) acted as a testament to her true misfortune and struggle. She also incorporated Lyme disease awareness into her Avril Lavigne Foundation, which is a charity she started in 2010.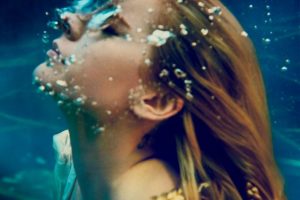 But now, in 2018, Avril has just about made a full recovery, and has released "Head Above Water" on September 19th as a bit of a look into what she went through – a desperate plea to God to preserve her life in this difficult time when even the future seemed unreachable. In an emotional letter to fans on her website (https://avrillavigne.com/about/), Avril explained what this song means to her:
"One night, I thought I was dying, and I had accepted that I was going to die. My mom laid with me in bed and held me. I felt like I was drowning. Under my breath, I prayed 'God, please help to keep my head above the water.' In that moment, the song writing of this album began. It was like I tapped into something. It was a very spiritual experience. Lyrics flooded through me from that point on."
Her major comeback song, "Head Above Water" embodies the sonic elements of a person essentially drowning, be it in depression, fatigue, exhaustion, or disease. The powerful piano ballad speaks volumes of her songwriting prowess and emotional connectivity to both the world around her and the storm inside her own being. Powerful lyrics of the song come into full-throttle with the bursting, full-bodied pre-chorus: "My voice becomes the driving force / I won't let this pull me overboard." The chorus is a direct petition to God: "I'll meet you there at the altar as I fall down to my knees / don't let me drown." Her impact and ubiquity is undeniable, and the mellowed-out lyrics are a beautiful account of likely the ugliest time of her life thus far. Paired with the subtle orchestral nuances in the background, the song blooms in a tortured frenzy of desperation but ultimate restoration through hard work, struggle, and overall determination.
After just about a day of being released, "Head Above Water" is already #1 on the iTunes charts – which goes to show that even after 5 years since releasing her latest album, the Avril fans have stuck around, and don't appear to be going anywhere anytime soon. Avril Lavigne's vocals lend themselves seamlessly to this new song harkening in her upcoming sixth studio album, and I think it's safe to say that fans will be ready and waiting to experience this new era with open arms.
EDIT: As of 9/27/2018, the music video for "Head Above Water" is now available. Check it out here to see the hauntingly beautiful visuals that Avril herself had envisioned to embody the harrowing experiences she went through: https://www.youtube.com/watch?v=EKF6ghfcQic
Angelina Singer
Self-Published Author
angelina320@icloud.com
Instagram: @angelinasingerauthor