Brady vs. Ryan in Super Bowl LI
by Kristy Spinelli, BSD Correspondent
Foxborough, MA – Within just a few days, it will all be over.  Super Bowl LI will be history and so will all the speculation on a game that will go down in history regardless of who will win.
While it's no surprise that one of the quarterbacks who will be playing against the other on Sunday night will also walk away with the 2017 Super Bowl MVP,  Brady and Ryan, are expected to both put up big numbers Sunday in Houston.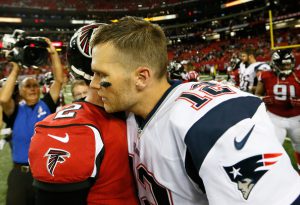 Tom Brady and Matt Ryan last faced each other at the Georgia Dome on Sept. 29, 2013 in Atlanta, Georgia, but they are definitely not strangers to one another.  In that meeting, Brady threw for 316 yards and two touchdowns, while Ryan threw for 421 yards, two touchdowns, and an interception. The Patriots held on to win the game 30-23.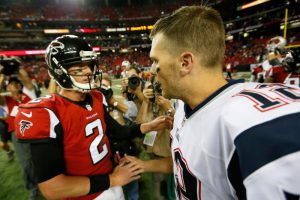 While Sunday's matchup won't only determine the NFL champion, it will determine which player had the best season from start to finish.  This will mark the first time since 1984 the league's two highest-rated passers have faced off in the Super Bowl.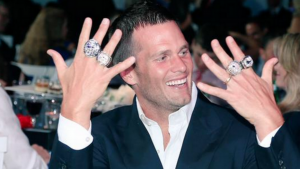 Ryan said this at a recent press conference, "Tom has had an unbelievable year, played extremely well, he has been extremely efficient, you know a lot of touchdowns, very few turnovers, just played really, really good football and he has been that way for a long time."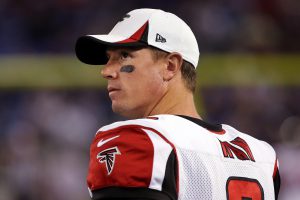 While this has certainly been Ryan's best season ever, there have been years that he looked less than a great quarterback.  The Falcons have had a hard time making any play-off games the last few years and Ryan has never been to the Super Bowl.  He did though make the Pro Bowl in 2010, 2012 and 2014, leading the Falcons to double-digit wins in four of his first five seasons.  It is no denying that Ryan led one of the best offenses in NFL history and scored at least 24 points in every game but one during the 2016 season.   The Atlanta Falcons rank eighth all-time in scoring average for a single season.   A lot of people are betting that Ryan has the skills and coaching staff to potentially give the Patriots a run for their money and Atlanta their first Super Bowl title.
Patriots safety Devin McCourty, who is expected to play and cover Julio Jones during the Super Bowl, said this about Ryan this week, "It's hard to draw up some defense that's going to fool him and he's going to have no idea. He knows pretty much everything. I'm sure with the extended time they have, he's seen every defense we have during the season. He'll be well-prepared."
Whatever the outcome of Super Bowl LI, it is going to be one of the most watched games of all times.  It will be a great day of football.