You seemed to make a concerted effort today to throw to the wide receivers and did not target Rob Gronkowski once. Was that because of something that the Jets defense was doing or more of an intentional effort to get the wide receivers more involved?
TB: Really? I didn't know that. So, I didn't notice.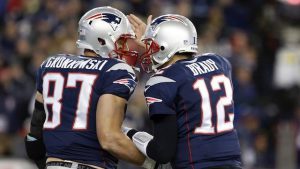 Q: You have played in a few very cold games, like the playoff games against Tennessee and Pittsburgh. Where does this one rank?
TB: This was pretty cold today. The Tennessee game was cold. Pittsburgh was really cold. This was right up there. It's just a challenge, I think, for everyone – mentally, physically – but it was great to get a win. So, we started fast and kind of sputtered there a little bit but had the lead and defense played great.
Q: Did it help to practice outside on Thursday in the low temperatures?
TB: Yeah, it was similar to Thursday. We were outside in the stadium, and I thought everyone got a good handle on what to expect in the pass game, in the kicking game. I think it's a real advantage for us, just being here practicing it, understanding how it's going to affect things. But just glad we pulled it out today.
Q: Do you have special respect for the fans who stayed until the end of the game?
TB: That was pretty hardcore today. To be out there and to brave that weather, sit in the stands, that was pretty sweet. It was a great way to end the year. We started 2-2 and 13-3 is pretty good and to get the No. 1 seed. So, our biggest games are ahead of us, and hopefully the fans enjoy that and they come out ready to go whenever we play.
Q: Is it concerning to you as you enter the playoffs that the offense sputtered today after the opening drive?
TB: We'll see. I mean, it's going to be a different defense, different plan and we've just got to get going and execute better, and I think we can do that.
Q: Would you describe your block of Darron Lee on the run by Brandin Cooks as the best block of your career?
TB: Probably. He was pretty off-balance, though, so it wasn't much of a block. But it was good. It was a big play for us to get Brandin around the edge there, and he ran really well. Once he got free there, he had David [Andrews] out in front of him, and we ended up scoring on that drive, so that was a good play.
Q: Did it help having a Michigan guy blocking an Ohio State guy?
TB: I know, that's right. Yeah, that's pretty rare for me. So, it doesn't happen much, but I was just trying to get in the way. I don't know how to block very well, so [I] just throw my body in there and glad he could help him bubble around and make some plays, make some yards.
Q: What does it say about the mental toughness of this team to overcome several injuries and the late season travel schedule to secure the No. 1 seed?
TB: Yeah, it was just everyone fought hard, and I think everyone – it's good to be in this position. It's a good week to really reevaluate where we're at and try to put our best out there. It's the playoffs now, and there's no looking past the next game. So, whoever it is, we're going to have to play really well. Hopefully we can, being off this week, get us back to as healthy as we can be, and I think that would help everybody.