QUARTERBACK TOM BRADY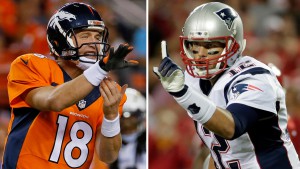 Q: What's the thing you most respect about Peyton Manning and his game?
TB: There are a lot of things. I think just his consistency, the durability, his ability to always seem to come through. He's just been an incredible player, and incredible leader for his team. There have been so many games as a team he's been a part of that they've won. So, you can see that he leads a great team.
Q: Is there one thing that you emulate that he's done? He came into the league ahead of you, so you said, 'You know what? That's something I should try to do.'
TB: He's a great passer. He's so accurate, he throws it on time, he knows where everybody on the field is, offensively [and] defensively. He knows how to look defenders off, put the ball in the right location so his guys can catch and run with it. I think he's just a great pocket passer and he's incredibly accurate [and] throws on time. He's been a remarkable player.
Q: I know every time you play against Peyton Manning you say it's about the two teams and not the two quarterbacks. But do you understand the historical value of the 17th meeting of this game between you two and other great historical rivalries?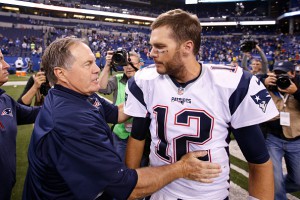 TB: I wouldn't compare it to any of those rivalries, but I think playing someone 17 times is pretty cool; especially someone as great as him. To play against those Peyton Manning-led teams, you know you've got to play 60 minutes and you're going to be in for a tough game. They're going to take advantage of opportunities that they get, so we're going to have to do a good job of taking care of the football, because you don't want to give it to these guys on a short field. So, it's going to be a big challenge for us. They present a lot of challenges on defense. They've got the best defense in the league; the best rush, the best coverage, one of the best teams against the run. So, they do a lot of things well, and certainly it's a huge challenge to go out there and beat them.
Q: You might tell us that it's not you versus Peyton, but do you think the quarterback who plays better will lead their team to victory on Sunday?
TB: It's going to be a team effort, there's no doubt. I'd love to play as best I possibly can and try to have my best game of the season, so that's where my focus is going to be. Hopefully our defense plays as well as possible, but it's going to take all three phases. We had a 14-point lead against them last time we played against them in the fourth quarter and lost the game. They've been in a lot of close games. A lot of them have come down to … They've had three overtime games that they've won. They've had some games come down just to the end, onside kicks and so forth. They've got a great team and they challenge you in all three phases. Offensively, we can't just play well and expect to win. We're going to need the entire team to play well.
Q: You just mentioned a whole bunch of games that you've had against the Denver Broncos just recently. Do you guys feel like you almost have to go deeper into your bag of tricks because you guys have seen them so often just recently?
TB: They're a great team and they've got a lot of good players. I think that's the hard part about playing them, is there aren't a lot of things you look at on film and go, 'Wow, I really want to run that again.' Even our first game, we missed some opportunities that maybe we could have taken advantage of, but in the end we just didn't play well enough and I think that's how that defense has played all season. When you watch the opposing offenses, yeah, you may make a couple plays, but you don't make enough to score enough points to ever get away from these guys. They haven't been in a game where it's been out of control because their defense is so good. They've got some great guys on offense and some very good special teams units, so that's why I said it's going to be a 60-minute game [and] maybe more.