Brad Stevens
Game 7: Boston Celtics Pregame
Q. Are the young guys nervous at all?
BRAD STEVENS: I'm sure. I'm sure there's always butterflies before any game, but like I've said before, I think our guys are really tough-minded, really focused on the task at hand, know we've got a great challenge in front of us, but more than anything, looking forward to the challenge. And I think we've seen over and over with this group that we have a lot of guys that are built for that, and they're excited about it, and we're looking forward to it.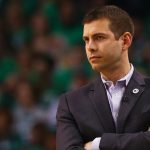 Q. Over the course of a long season or even now at a Game 7, does the tradition or the legacy or anything about this place and this franchise become part of your team?
BRAD STEVENS: Right when you get here, when you get drafted here, traded here or signed as a free agent, you feel it, and that is — and I think more than anything, even when we were not quite as good earlier on when I got here, you still — everyone feels the responsibility to give it your all and to be part of a team, and I think that's a part of playing in Boston, and I think that's a part of playing underneath those banners as a Celtic.
Q. Ty [Lue] said this morning that he was going to go with Jeff [Green] instead of Kevin [Love]; are you changing your lineup, and if you don't want to discuss that, how are they different with Jeff in there?
BRAD STEVENS: Yeah, no, we're not changing. Jeff is a guy that I think you all know brings a great deal of versatility to the game, and so without Kevin, they switch a lot more. They do what we call scram a lot more, where they switch and then kick a small out of the post. Their defense is much more, I guess, unpredictable in a lot of ways, and that is — I thought that they did a good job of that, especially when Kevin initially went out.
I think it gives them another long, versatile athlete on the defensive end of the floor, and then Jeff played great offense two straight games. We know here he was one of our best players on that first team that I talked about, and he's a guy that can score, and he's a guy that can score on the block or facing the goal. He's a good player.
Q. As this series has gone on, has there been more
or less game plan discussion with your team sort of between games, or has it been consistent like it's always focused on the game plan than it is sort of about intangibles and stuff like that?
BRAD STEVENS: We just focus on what we need to do to play well, so very game plan specific every night, every day, every video session, every walk-through, every shootaround. It gets enhanced in the Playoffs. There's no question about it. But we stay pretty consistent with that throughout the whole season, so it's a routine that our whole group is used to.
Q. You talked the last couple days about their point guards being aggressive in the pick-and-roll and scoring out of the pick-and-roll. Did they do anything differently, or was it your defense that reacted to what they were doing differently?
BRAD STEVENS: No, they ran more of them because Love was out. [George] Hill was excellent out of it, [Jordan] Clarkson was very good out of it. They've both been really been good at times during the series anyway, but I thought they were especially good the other night, put us in a tough spot. I didn't think our pick-and-roll defense when those guys were involved was as good as it has been in the past. We're obviously going to have to do that better without Kevin playing. They're going to obviously feature LeBron even more and go to the strengths of the other guys. The pick-and-roll with Hill and Clarkson is certainly a strength of those guys.