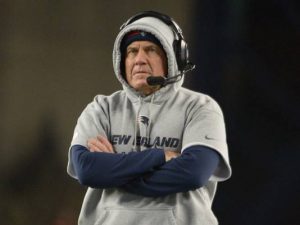 BB: Alright, so, just digging in here on Buffalo. I think that Coach [Sean] McDermott has done a real good job with this team. They're playing extremely well, got a really good team, a lot of veteran players that play very good fundamentally. They're very sound. They do a lot of things well. They run the ball well. They play good defense. They're good in the kicking game. They obviously do a good great job with takeaways and turnovers. Ball security is going to be a huge issue for us in this game. I'd say that they play with a lot of passion. They play smart football. They don't give you anything. There's not a lot of opportunities there when you look on the film like 'Oh, this looks good. That looks good.' You're going to have to earn everything you get from this team. They play very competitively. They have a lot of tough football players, guys that play hard, that work hard, that are physical, that do a good job of controlling their area, if you will, and then some great athletic space players, obviously, like [LeSean] McCoy, like [Brandon] Tate, like [Tyrod] Taylor, guys like that, [Jerry] Hughes, in their respective areas that are really hard to deal with, hard to handle. We'll need to do a good job in all three areas. This is a well-balanced team and a team that capitalizes on mistakes. You can't make many and you've got to do a good job of containing their explosive players in all three phases of the game – their skill players on offense, their disruptors on defense and the return players and kick and coverage players on special teams. This will be a big challenge for us to go up there and be able to play well.
Q: Going back to the fake punt…
BB: Yeah, honestly, I'm pretty much done with that. Really, I'm on to Buffalo. I really need to focus on Buffalo and I don't really care too much about anything else right now. Sorry.
Q: Kyle Williams is a guy you've seen plenty over the years now. How much does he embody the toughness of that defense as a whole?
BB: Yeah, sure, [Lorenzo] Alexander. I mean, you can put him right in there, too. Obviously, the whole secondary is new. Those guys weren't at Buffalo but we played against most of those players – [E.J.] Gaines, [Micah] Hyde, [Jordan] Poyer. Obviously, not Tre'Davious White, but those guys, I would say, yeah, Alexander. Certainly Kyle Williams, Hughes, [Preston] Brown – that's a good solid group – [Ramon] Humber, who we knew, who we played against last year. Those guys – Leonard Johnson – those guys played hard. They've all caused fumbles. They've made big plays. [Matt] Millano's made some for them, too, but that linebacker group – Brown, Humber, and Alexander and Millano – have all caused fumbles, intercepted passes, knocked balls loose, as well as their normal tackle stats and all of that. Like you said, Kyle Williams is a very good football player. Hughes, a tough guy to handle. Leonard has played well for them in the slot position. They play good complementary team defense. It's not one guy, and if you run away from one guy you're running into somebody else and those guys have come through for them consistently. They held Kansas City to 10 points. I mean, we know what that's like. In Kansas City they did a really good job.
Q: Their run defense was stellar last week but had been trending downwards a couple of weeks before. Is there anything that stands out to you that would have allowed them to improve in that area last week?
BB: They've been pretty consistent all year. Obviously, the Charger game, I think you can kind of write that one off, but they're a good defensive football team. They play a lot like Carolina plays, schematically, but I'd say their experience in the secondary with Poyer, Hyde, Johnson and Gaines, that those guys do a real good job disguising coverages, changing up the looks. It's hard to get a real good pre-snap read on them even after the snap. They hold some things late. They drop into coverages or get to their responsibilities late. They make it tough on you. They really do. They didn't go to a 3-4 defense or anything like that. No, they played what they did and just did a lot better and, obviously, that wasn't their highlight game this year, but they've had a lot of good ones.
Q: Do you have to relearn what some of their secondary players can do given that you've seen them play before, but haven't seem together as a group with this Buffalo team?
BB: Yeah, well, I think it's interesting. I think you look at each of the individual players and based on what they did before you kind of know that player and his skills are. Now you're seeing him in a different system, and so some of those skills that maybe in another system weren't highlighted as much are now featured more in Coach McDermott's system. You just see them playing differently. You see the safeties playing more Cover-2. You see the corners in zone coverage, things like that. Poyer was really more of a free safety at Cleveland. He's played really more strong safety here for Buffalo. Hyde was all over the place. He played corner. He played some nickel back. He played a little bit of safety, returned punts. Now he's pretty much a free safety exclusively. You don't see him in those other spots. I'm not saying he couldn't do those, and maybe at some point he will, but for right now, two-thirds of the way through the season he's just been in that one spot. When you go back to Green Bay there is not a lot of him at free safety. I mean, there's some, but there's more him at other positions. Certainly, when we played them in '14. Gaines played against us last year. He got hurt right before the half and didn't play in the second half, but we saw him with the Rams, and Leonard, of course, we know. We know what a tough, competitive guy he is. Yeah, I mean, you sort of know them from other systems, but when you see them in this system you see how they're being coached to play, how they're playing the system that they're being coached now. Sometimes that's a little different emphasis than what there was somewhere else. It's interesting the way they've put that together and those guys seem to play with a lot of confidence with each other, a lot of, as I said, good coordinated disguises and coverages. Not just one or two guys, but the whole group really. You can put Preston Brown in there, too. He's in coverage almost on every play, and Ramon. Those guys are pretty much on the field for all of the plays. Alexander in regular, but then he plays some defensive end in sub, but they coordinate all of those things pretty well and disguise their blitz looks and then back out of it, or don't show it and then walk into it late, stuff like that.