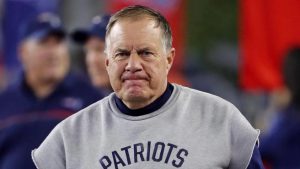 BB: Alright, well, it was quite a game. Obviously, a lot of situational football at the end that was critical to the outcome of the game for us. I thought these guys played hard for 60 minutes. Houston is a really good football team and they're well coached. They do a lot of things well – that's obvious. I thought the goal line stop on third-and-1 to hold them to a field goal and then overcoming a couple of long-yardage situations on the last drive, those were some big plays for us, obviously. I thought our special teams gave us good field position today, so that was certainly a big improvement from last week. We've just got to continue to work hard and improve. There's a lot of things we need to do better. Houston gives you a lot of problems. They have a lot of good players. We'll see another athletic quarterback again this week. We'll just have to keep working at it, keep grinding it out. I thought it was a good team win today. It was warm. The players went the whole 60 minutes, played hard, competed well and made enough plays at the end. Just barely, but made enough plays at the end to win. It was good. It was good.
Q: Can you talk about Tom Brady and the offense's final drive?
BB: Yeah, well we had a lot of plays during the game that, obviously, weren't so good. They scored on defense. They strip-sacked us, tackled us, hit some big plays, but I mean, in the end it came down to a handful of plays and situational football at the end of the game. The third-down stop was our goal line defense against their three receiver set. We made the play there and then, again, we were able to overcome a couple of long-yardage situations on the last drive with Danny [Amendola] and Rob [Gronkowski]. [Brandin] Cooks, obviously, on the last play against Cover-2 down the sideline made a great catch there. A lot of guys stepped up. We pass blocked well enough. It was a struggle because those guys are really good. We made enough plays on offense and just barely on defense, but it was, again, the whole game really came down to the last – call it three, three-and-a-half minutes. Fortunately we were able to make the plays we needed to make to win.
Q: Do last minute finishes like this allow you to learn about the mental toughness of your team?
BB: Yeah, again, we were in a lot of situational football in that game on offense, defense and special teams. Yeah, of course you'd like to play better so it doesn't come down to the final play, but look, this is the National Football League and the Texans are an outstanding team and that's what it's going to take to beat them, is to play 60 minutes and be able to make the plays that you've got to make at the end to win, whether you're on offense, or defense, or the kicking game or whatever it is. That's no surprise. It's pretty much like that every week in the National Football League in at least half of the games.
Q: How imperative was Rob Gronkowski's effort today, not only catching the ball but also with his blocking?
BB: Yeah, well I think all of our backs and tight ends – Dwayne [Allen], Rob, James White, Dion [Lewis] – they were all involved in protection. There were times where it was OK. There was other times that, obviously, it needs to be better. We've got to do a better job. Look, it's a battle. Those are four of the best rushers that we're going to see. They run games well. It's not just their individual rush but the way they force you to block one-on-one and then pull out late and then run pass rush games. You include [Brennan] Scarlett in there, who played quite a bit. He's another good rusher. Then the big guys – [Joel] Heath, the Clemson kid [D.J. Reader]. I mean, it's not just the big four – [Whitney] Mercilus, [Jadeveon] Clowney, [J.J.] Watt and [Bernardrick] McKinney – but there's a bunch of other guys in there that are a problem, too. I thought we battled them. They got some plays. We blocked them some, but it was a battle.
Q: What was your reaction to the way the team handled the National Anthem?
BB: Yeah, I'm just going to talk about the game. I'll deal with that later.
Q: How rare is Brandin Cooks' speed?
BB: Yeah, he's got good speed. I don't think there's any doubt about that. Yeah, he's good on catch-and-runs and he can run by defenders. I mean, we've seen him do that all year.