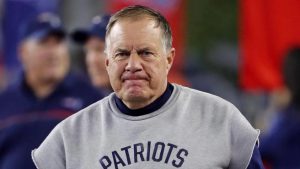 Q: What did you see from David Harris with his extended playing time last night?
BB: Well, as always, I think David works hard and is very well prepared and did all of the right things that we would want him to do from an assignment standpoint. He gave us some good plays, was in on a few plays. Again, handled the communication in the front well. We'll see if we can build on it. We've got a lot of good play from a number of guys and he's certainly part of that group.
Q: Would you put the offensive line in that category of good play as well?
BB: Yeah, I thought overall offensively we had a lot of good plays. We even had to put some plays together to drive the ball. This isn't the type of team that gives up a lot of big plays. I think they've given up the fewest in the league, so we were able to do that both in the running game and the passing game. I thought our offensive line competed well. Again, they have a good group. There was some back and forth. They gave us some problems and I think we gave them a few, but they competed. They competed right at the end. I thought the last five plays when we were able to get a couple of first downs there and run out the clock were a good exclamation point for the play of the offensive line and the running backs – Dion [Lewis]. They ground out some tough yards there. We needed those.
Q: You seemed to get solid contributions from the entire stable of running backs last night. Is that something that you have seen improve in practice over the past few weeks?
BB: Well, I think all of the players have been productive for us. It was good to get Rex [Burkhead] back and he gave us some production, as well, both in the kicking game and offensively. I feel like we have a lot of depth and quality players at that positon, really all five of them including Brandon [Bolden]. They all have the ability to help our team in a number of different ways. We'll just see how it goes going forward but we have confidence in all of those players and they were all able to contribute last night, so it was a good performance from that group.
Q: What did you see on film this morning from Tom Brady in regards to his ability to move around the pocket last night and keep plays alive to find receivers downfield?
BB: Yeah, I think Tom has good pocket presence always. Always has had a good feel in the pocket. That's one of the many qualities that make him the player that he is. It's been a little bit like that the last couple of weeks really. We were able to get everybody blocked pretty cleanly but not in the classic cup-shaped pocket and Tom had to move a little bit either up in the pocket or to the side to have some space to throw the ball. He did a good job of that and the line did a good job of creating that space for him to be able to move into.
Q: Is that something that he just does out of experience or is that something that Josh McDaniels may talk to him about on the sideline?
BB: I mean, again, a lot of that is preparation. He's watched a lot of passing plays and quarterbacks and receivers are always watching the coverage and the throwing part of the play, but the pocket is important, too. We take a look at that. Depending on what the protection is and what front there is, what front the defense is in, that creates some pass protection blocking angles and gives the quarterback an idea. If you have five blockers and they have four rushers then one side is the three-on-two side and the other side is basically the two-on-two side, more or less. Which side to favor and knowing which players like to power rush, which players like to speed rush, which players like to spin and come inside, not that the quarterback is looking at those players but if you have an awareness of tendencies that they like to do then when those things happen you kind of get the reaction to that. We try to get our players on the practice [squad] in practice to simulate the type of rushes that we'll get so that over the course of the week the blockers get a feel for, again, the type of rushes that they'll see and the quarterback gets a feel for the type of pocket that we'd likely encounter. It's all part of it.
Q: On the goal line stop by Kyle Van Noy on the end-around by Atlanta, it looked like he kind of went with the runner in motion. Is that something that you guys prepared for or is that kind of standard for his responsibility when he sees that player go in motion?
BB: Right. It's a little bit of an unusual play to run down on the goal line but we've seen it before. It's a tough play because in your goal line defense when you're trying to stop the run down there you're almost always in some type of man coverage principles. So, when the receiver – [Taylor] Gabriel – comes across in a fast motion like that it's almost impossible for the guy who has him in man coverage to get through all of the traffic and get over the top on everything and he's there on the other side. Kyle made a great play, made a very instinctive play. He recognized the motion and then saw that the defender was a little bit behind the receiver and so he moved into position to have better leverage on the play. Trey Flowers also saw that and it might have forced him a little bit deeper. Kyle might have made the play anyway but Trey got a good read on it, too, and was able to partially disrupt the play. If you can just force that play to not get around the corner immediately through a belly back and give ground or if the runner has to slow down and gather it all then you're in position to get there. That play is really dangerous if they can just hit it on the outside and then you have no way to catch them. Trey made a good play on that and Kyle's awareness and the quickness with which he got outside with all of the traffic so that he could kind of have a clear shot to come up the field was a real heads up play on his part.
Q: Kyle Van Noy's role seems to have increased more this season than last. Is that something you envisioned when acquiring him or is it just a result of him earning more time through his performance in training camp and throughout the season?
BB: Well, he saw a lot of time in training camp Phil [Perry], as you know, with the time that Dont'a [Hightower] was out, but his role increased throughout the course of the season last year. I think really at the end of the year – like call it the last month or five, six weeks of the regular season and playoffs – his playtime was very high. His production was high. We felt like going into the season that, again, Kyle is a versatile player. He's able to do a lot of things. He can really play on the end of the line. He can pass rush. He can play in coverage. He can play middle linebacker. He can play outside linebacker. He gives us a lot of flexibility on defense. Not that you want a player to have to play five or six different positons but sometimes in your scheme or over the course of the season things can shift a little bit, but we headed into the season thinking that he would certainly have a bigger role than he had last year just because the amount of time that he's had to familiarize himself with our system and practice it all through the spring and all through training camp. Kyle has been a very durable player. He's out there every day. He gets better, works hard every day. He's able to do more and he wants to do more. He's the type of player that wants more responsibility and likes the challenges of doing different things; coverage, pass rush, playing the run, playing on the line, playing off the line. His hard work has paid off in a lot of opportunity and a lot of production in a number of different areas. The one area that stands out is, of course, as you mentioned the number of plays that he's on the field for.