HEAD COACH BILL BELICHICK
POSTGAME PRESS CONFERENCE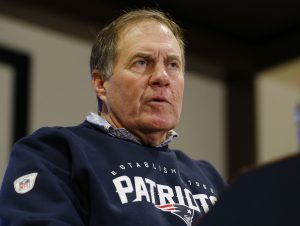 BB: Well, I thought our team did a lot of good things out there today, but at the same time we left a lot of plays out on the field. We had some lapses in our play that we need to eliminate, but it was good to see the production we had in the running game, finish drives in the red area, had a couple of big plays in the kicking game. I thought the fake punt kind of got us going a little bit. I know it was early, but it was a good play that offensively we converted. Defensively, hit the passer, turned the ball over. We gave up 10 points on defense, so usually that's pretty good in this league. We lost the ball on offense, could've tackled better, could've defended a couple of plays in the passing game better defensively. We'll turn the page here. We'll see these guys in a couple of weeks. Turn the page and get on to Buffalo. It sounds like they had a big win today. I know it'll be tough up there, but good to get this one. We'll just move on here and start getting ready for Buffalo.
Q: How much of the fake punt was a matter of Nate Ebner just recognizing that the option was there to potentially convert it? Also, in the fourth quarter what went into the decision to go for it on fourth down as opposed to kicking the field goal? Was the wind a factor or did you just feel like you could gain a yard at that point?
BB: Yeah, I'd say it was more of the latter. I feel like we could get a yard. Obviously, it was a poorly executed play, so not well done. Yeah, I won't get into the specifics on the fakes. It was a good play. It helped us. Joe Judge, like he always does, did a great job of getting our team's special teams prepared. It was a big play for us.
Q: Can you talk about why the pass rush was so successful today, in particular, Eric Lee with his sack at the end of the game there?
BB: Well, you know, I think the score had a lot to do with that. Anytime you can get ahead in the game, most of the second half, probably middle of the third quarter, the last third of the game was a lot of passing, a lot of pass rush with the lead, so it gives you an opportunity to rush the passer better. Guys did a good job. We had contributions from a lot of different players, got some pressure from our linebackers, from our secondary and from our defensive linemen. But yeah, I think being ahead in the game certainly helps the pass rush.
Q: Is it concerning that the team isn't executing as well at home as they do on the road?
BB: Yeah, no, we try to execute well every week.
Q: Is there something about playing on the road that sharpens the team's focus?
BB: I don't know.
Q: Elandon Roberts had a couple of nice plays today. Do you see the linebacker group and the defense as a whole starting to turn the corner or is there still more work to do?
BB: Yeah, well, we'll see. It'll be a big challenge this week against Buffalo, and Tyrod Taylor, and [LeSean] McCoy and those guys. We'll see. Yeah, this week was – we gave up 10 points today but, again, there are some things that we certainly could have done better and could have made it easy on ourselves. We'll keep working on those. But overall, those guys compete hard. Again, we got production from all three units, but these guys have very good skill players, as good as anybody in the league – receivers, tight ends, backs and quarterback, two good quarterbacks. It was challenging. This was a challenging group. I thought our coverage guys, especially, really met the challenge this week. We were able to get ahead and create some pass rush and turn the ball over. Those are all positives. Can we do it again? I mean, I don't know. It'll be a challenge every week.