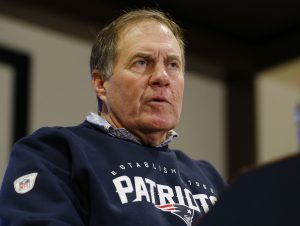 Q: How much value is there in the screen game if the yards aren't there or aren't there consistently?
BB: Well, I mean any plays you're not making yards on, it's hard to get excited about those. Our screen game hasn't been as productive as we need it to be. We need to, obviously, coach it better and execute it better. We're not getting enough out of it. It's disappointing.
Q: It would seem that you have the personnel to execute it, so is it something consistent holding it back or is it just a breakdown here and there?
BB: I think it's a combination of things. We've run a lot of different types of screens – receivers, backs, tight ends, quick screens, slower screens. We're just not doing a good job. I've got to do a better job of coaching them and we've got to do a better job of executing them. It's as simple as that.
Q: Can it still be a positive influence and force the defense to slow down a bit despite not gaining the yards you'd like?
BB: I don't know. Based on what we're gaining on them, they should be happy every time we run one.
Q: How similar is Joe Judge's job to the other coordinators and coaches in terms of preparation, film study and game planning each week?
BB: Well, I mean it's similar in that he has a responsibility for the units that he has. It's different because each unit is comprised of different players and there's a lot of situational football that comes up in the kicking game. Not that there isn't on offense and defense, but there's an awful lot of situational football in the kicking game that, again, involves a lot of different people. Usually, on offense or defense you have about the same 12-13 guys you're dealing with. On special teams you could have all of the linemen on the field goal team, all of the defensive linemen on the field goal rush team, and all of the linebackers, tight ends, running backs, defensive backs, receivers on coverage teams, and return teams and everything else, plus the specialists and all of that. So, there are a lot of moving parts, a lot of decisions, a lot of getting everybody on the same page and you start factoring in weather, like we had on Sunday, where the wind affects the kicking game a lot more than it affects the passing game, then that's another variable that has to be taken into consideration, too. Yeah, there's quite a bit there. Joe does a great job with it. Bubba [Ventrone], they both do a great job. It's different, but it's similar in terms of the responsibility and all of the things that have to be handled one way or another.
Q: With all of the big plays from special teams the past few weeks, how does that speak to the job that Joe Judge and Bubba Ventrone are doing this season?
BB: Yeah, they do a great job. They do a great job, and the players do a great job. They really work hard at it. They put in a lot of extra time. They take it very seriously, as they should, but they do and they take a lot of pride in it. It's great to see that extra work pay off.
Q: Darrelle Revis had mentioned that it took him some time to get adjusted here in 2014 but that once he did, everything went smoothly as the season progressed. I'm curious if you see that same kind of pattern for Stephon Gilmore and, if so, what kind of role has Josh Boyer played in his development this season?
BB: I don't know about the first part of it, Mike [Petraglia]. Every player is different. Every situation is different, so I don't know. But yeah, Josh does a good job with those guys. I mean, look, all of our assistant coaches, they spend a lot of time, individual time, with their group of players, their individual players and that's a very important role that they have, especially with new players and making adjustments and so forth to our overall program and system. So much of that is done by the position coach. The head coach and the coordinators have their role, but the position coaches all do a great job of working with their groups of players, really drilling deeper to help them understand and give them the finer points of their position, or of the scheme or something that our opponent is doing and constantly helping them to stay ahead in their responsibilities and their role on the team. Yeah, those guys, they all do a great job.
Q: What sort of contributions will you lose with Nate Ebner now being place on Injured Reserve? Also, we've seen Jordan Richards play a bit as the personal punt protector. What can he bring to that role on special teams in Nate's absence?
BB: Right, well, of course we'll miss Nate but, again, that's an unfortunate part of the game. We have other players that have worked hard that will get an opportunity, and I'm sure that they'll go out there and do their best to make the most of their opportunity and provide a high quality of play for us. That's what a full team is about, how everybody depends on each other and how we need everybody. Hopefully, that'll be the case. We certainly expect them to do that and expect them to step up and do their job. That's really been a great strength of our team. Hopefully, it will be going forward and there will probably be other examples, somebody else that we will need to do that along the line. I don't know who or when or exactly what it'll be but, hopefully, everybody will be prepared and we'll be able to continue to be productive with the players and the people that are in there.