Q: In the last five games you've been penalized a total of 13 times. In the two previous games before that there were nine penalties in each game. Is that a reflection of the players taking the coaching better and using improved techniques so they don't get in positions where they commit penalties?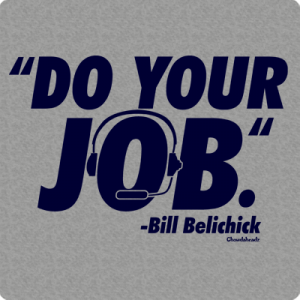 BB: Well, hopefully that's what it is, yeah. We emphasize that all the time. We always try to work to eliminate penalties. Sometimes those things happen but, as you said, a lot of those penalties are caused by bad technique or just lack of concentration or sloppy football. We certainly are always trying to stamp those out.
Q: Mike Vrabel was officially named as the new head coach of the Tennessee Titans yesterday. When he was sitting in the Patriots meeting rooms from 2001-08, how much could you have envisioned him eventually being in that position someday?
BB: Well, I mean I've talked about this quite a bit. I think Mike's a very smart football player. He worked hard, trained hard, loved football. I have a ton of respect for Mike and everything he's done and how hard he's worked and what he stands for. In all honesty I wasn't thinking too much about that in those meetings. I was thinking about whatever it was we had to do to compete against the team we were playing against. I'm sure those were my thoughts at the time, but Mike's a tremendous person, coach. He was a great player here and he certainly has a ton of attributes that would be a great addition to any organization – leadership, work ethic, toughness; all those things.
Q: If and how might you place any additional emphasis late in the season on stamina and tempo, especially on defense?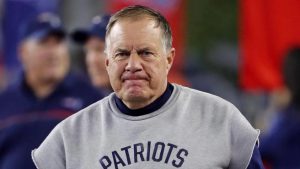 BB: Nothing in particular there. I think it's important at all times of the year. We strive for that at the beginning of the year, middle of the year, end of the year, anytime. We know in this league, as competitive and as evenly balanced as this league is, that a lot of times when plays will come down to, as we know, one or two plays to determine the outcome of a game or at this point in time the outcome of the season and how critical those are. We've got to do the best we can to prepare for any of those situations that might come up, which conditioning and stamina and so forth are part of that discussion.
Q: Is Trey Flowers' high motor something you noticed since he began playing for you guys and how impressive is his conditioning, especially late in games?
BB: I think it's very good and I think you saw that from Trey in college. He plays hard, pursues the ball well, played a lot of plays at Arkansas, wasn't substituted for a lot. He was in there and played a lot of important plays, kind of as you would expect him to be given the caliber of his play. So, yeah, he was a guy I would say that's done this. It's kind of what it's been and – very competitive player, very productive player and a versatile one. He can do a lot of different things for us and has done that and it's been very valuable.
Q: Before Danny Amendola caught one of his punt returns on Sunday, he kind of gave the 'fire' call or whatever it is that you guys call it. Is that to deke coverage players or to let his own guys know to get out of the way? Is there any sort of game within the game there when he makes that signal and then catches it anyway?
BB: Well, sure. I think that's a heads up, deceptive kind of move by the returner, by Danny, to get the coverage to relax or pull up a little bit and give him an opportunity to create a little bit more space and make a play.
Q: Early in the fourth quarter you had another punt return set up and it looked like the Jaguars aligned in an unusual kind of way. Was there any thought on your part of taking a timeout when you saw that or what went into the decision not to?
BB: I think the only reason to take a timeout would be if you needed it. If there was a reason to take a timeout, there was some reason that you wanted to stop play. That's really not something that we were interested in doing at that point in time. Didn't feel like there was any need to take it and that's why we didn't use it.
Q: How much impact have Dave Ziegler, Monti Ossenfort and Richard Miller had on building your current team?
BB: Well, sure, there are a lot of people that go into that. The three names that you mentioned and many of the other pro personnel and college scouts that work under or with those people and help to bring information to the table that either gets used or followed up on or is used in comparisons to try to analyze and evaluate players and talent. The scouting department is a very – they're a very hard-working group. They have to cover a lot of – the volume that they handle, it's a mountain of information and not all of it is easy to get. You have all the current NFL players, which you can probably add several hundred to the list of players that are in the league, that are on active rosters, because you have all the injured players and then you have players that slide on and off rosters over the course of the season – some of those practice squad players, some of those veterans who are on or off for other competitive reasons as needs arise of various teams. Then you have all the college players and another hundred and some underclassmen that just declared that need to be evaluated. Some of those we anticipated. Some of them we didn't. When you put it all together, the information and evaluations, as I said, it's an incredible volume plus you have all the injury information, character and personality and other things like that that aren't really part of a football evaluation of a player on a football field. It's another component that's a part of it. Again, those guys do a great job of pulling all of that together. They work very hard at it – Nick [Caserio] and Monti and Dave on the college and pro end, respectively. They do a great job. As I said, they have a lot to handle. The volume is enormous.