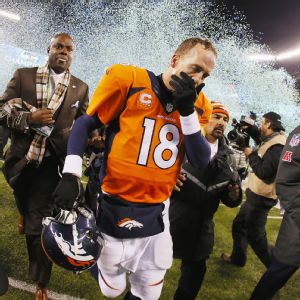 Q: What were your impressions of Peyton Manning's performance yesterday and how much different will it be preparing for him as opposed to Brock Osweiler in the previous matchup?
BB: Well, I'd say the preparation is definitely different. Peyton has tremendous experience running this offense and having control of things at the line of scrimmage, more variations, more fluctuation in what they do as opposed to probably more plays that are called and run with Osweiler. [They're] both good players obviously. We've had trouble with both of them so we'll have to be ready for both guys. I think Denver did a great job yesterday of doing what they had to do. They made the plays on offense, defense, and special teams that they needed to make when they needed to make them and that was the difference. That's what good teams do and they did it.
Q: Aside from them having different quarterbacks would you agree that the two teams are now much different than they were in the previous matchup which may lead to less carry-over this time around?
BB: I mean going into the game some things will be similar to what they were, some things will be different. That's usually the way it is. Maybe it won't be snowing, I mean who knows. Whatever it is, it is. We'll do our preparation like we always do and be ready to play it out. The result always changes in every game. Teams always have to make adjustments in this league and you're right, they'll be some matchups that will be a little bit different from what they were in the first game. That's usually the way it is. You can say the same thing about our division games this year, too.
Q: Is there anything from your run defense in the last game that stood out in regards to some of the big gains they had?
BB: They're a good running team. Coach [Gary] Kubiak always does a great job with the running game every place he's been – Denver, Houston, Baltimore last year. They do it well and we've got to do it well and when we don't then it's a problem. I'm sure we'll be challenged by that again. They always challenge you on the running game. They do a great job of setting up formations and trying to put your defense in a run-pass conflict, or some kind of a compromising spot with their formations, or their ability to change plays based on what the better look is. If we're not sound, if we don't play with good technique, if we don't tackle well, it will be a problem. If we do those things then we should be competitive, but it won't be easy.
Q: Have you seen the zone-blocking scheme in the run game from other teams or is that unique to Denver?
BB: I'd say we see it pretty much every week. They do a lot of it. They probably do more of it, but I think just about every team has zone running plays. Dallas, start with them.
Q: What enabled Logan Ryan to have such success in covering a player like Demaryius Thomas in the previous matchup?
BB: Well, Logan's had a lot of [success] in our secondary. We've faced a lot of great receivers this year. The Broncos, they have a lot of guys you have to be concerned about. Logan's again, a smart player. He has got good playing strength, good tackler. He's very instinctive. He studies the receivers. He has a good sense based on their splits and their tendencies and those kinds of things. He's an experienced player that's usually in the right place and plays a good technique. However we matchup this week, however it goes, there's a lot of quality players to cover in the passing game with a great quarterback, so it'll be a big challenge for us.
Q: How do you balance the decision to react to the adjustments that Manning makes at the line of scrimmage versus staying in your defense and reacting as the play is developing?
BB: That's a great question and that's really the basis of trying to come up with a game plan and figure out how you want to play a team like that. You don't want to put yourself in bad situations. At the same time you don't want to make it too much of a game where there are a lot of multiples – 'if they do this we do that,' 'if they do that we do this' – that just can go on forever. At some point you've got to line up and play what you're going to play. Look, just because they know you're in something isn't always the worst thing in the world. All good teams have tendencies. All good players have tendencies. That's not a bad thing. It's a good thing. It means you're doing something well. At some point it's going to come down to you have to play well. You have to do what you do well better than what they try to do against it. I think there are elements of all those things in a game. You certainly don't want to make it easy for them, but you can outsmart yourself sometimes by trying to play too much of a mind game. Manning's a great quarterback. He's a hard guy to fool. He has seen it all. Read
Q: With all of the NFL head coaching vacancies being filled does that mean you're expecting to have both of your coordinators back with the Patriots next year? Read
BB: I think right now our focus is on the AFC Championship Game and the Broncos. Honestly, all of the other things that have been going around in the league and all that, I haven't really paid much attention to. It's not really anything. I mean I know it could affect us, but we spent last week trying to get ready for Kansas City and we'll spend this week trying to get ready for Denver. There's a protocol that has to be followed in the league and if that affects us then we'll follow those guidelines. Honestly, I don't really care about it. I don't really think about it. I'm trying to do a good job right now of coaching our team and getting ready for Denver.
Q: How do you feel about Peyton Manning's use of your 'We're on to New England' line in his interview following yesterday's game?
BB: I haven't really given it any thought at all. Is that going to be the big story for the week?
Q: No.
BB: OK, good.
Q: Have you decided on your schedule for the week regarding traveling to Denver?
BB: Yeah, we've kind of looked into that right now.