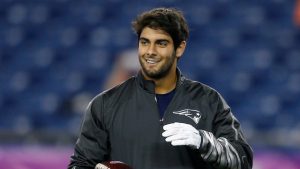 BB: We've completed the trade papers with San Francisco, so I'll just make a couple of comments on this situation. First of all, I have a tremendous amount of respect for Jimmy [Garoppolo]. I couldn't ask for him to give us any more than he's given us. The 49ers are getting a good player, and they're getting a good person, and they're getting a great teammate and they're getting a good quarterback. Jimmy is getting a good coach. His career is moving forward. He's a talented individual, was a great person to coach. I met with him weekly and, again, have a tremendous amount of respect for him. As his career moves forward we have to look to our team, both this year and beyond, and that's a consideration we have to make. We probably had, in my opinion, the best quarterback situation in the league for the last – let's call it two-and-a-half years – it's just not sustainable given the way that things are set up. It's definitely not something that we wanted to walk away from and I felt like we rode it out as long as we could. We over a period of time explored every option possible to try to sustain it, but just at this point felt like we had to make a decision. It's a very complex situation on multiple levels and this is really the last window that we had and we did what we felt was best for the team. There were many things involved in this whole process and, again, on a number of levels; way too many to get into at this time. I'm definitely not going to get into any conversations that took place regarding the trade or with the player, but this is a decision involving Jimmy; in some form a decision that's been looming for the last couple of years. I'm sure a lot of you have questions that are fair but, again, to try and put the whole puzzle together and there are so many different points in time that would and could change the entire conversation that it's just too complicated of a process and too unique to get into in depth. So, I'm not going to answer questions about the transaction and all of the follow ups that would be coming with those, which are fair questions, but it's just not possible. We'll address the quarterback positon and try to put our team in the most competitive position possible. I will not discuss any roster changes until they've been completed, so there's not going to be any speculation about anything that might or might not happen in the future. That's where we are for today.
Q: What are your thoughts on the season that Tom Brady is having thus far through eight games?
BB: I think my thoughts are really pretty similar for the entire team. I wouldn't single out any individual. We have a good record. It could be better. We've done enough things to have that record. Again, we've played against a lot of competitive teams; really all of them. Every team we've played against has been a very competitive team and we have a lot of room for improvement. We've made some improvement and we have a long way to go. That's, again, really all of us – each unit, each player, each coach, each side of the ball, offense, defense, special teams. I think we've worked hard. We've made some progress. We'd all like it to be faster. We'd like it to be more consistent. It is what it is and we'll see what we can accomplish in the second half of the season. That's where we're at and that pretty much sums it up for everybody.
Q: Was your connection with San Francisco general manager John Lynch important to you given the trade that was made just now?
BB: Yeah, again, I think I've covered that, Mike [Reiss].
Q: How challenging is it on trade deadline day to keep track of all of the moving pieces and to keep account of what moves you may be trying to make?
BB: If something comes up we'll look into it. Again, that's [not] really on the coaching side of it. The coaching staff – we're focused on the players coming in tomorrow, working on some things that we feel like we need to work on moving ahead and maybe new areas that we need to address and having a productive day with our players. Our personnel staff – Nick [Caserio] and his staff – are working on personnel. If there's something that comes up in that area then we'll address it. If there isn't then we won't.
Q: When you are trading for a player how do you balance what the player can bring to your team now versus what the future return on investment might be?
BB: In most every situation like that there are a lot of things to consider. In the end, you put it all together and try to do what you think is best for the team. There are a lot of different aspects to the composition of the team and we try to give a thoughtful approach to all of them. Sometimes one thing overrides another. Sometimes it's a combination of things. Each situation is different.
Q: In your experience, can the growth of a player be limited if he doesn't receive the game experience and game repetitions that a starter otherwise would?
BB: Well, I think in football we only play once a week, so if the only time a player improved was on the day that he played then I don't know how much better the player would get in what his skills are, period. We're in a sport where we practice a lot more than we play and so most of the gains that players make are on the practice field because that's where they spend most of their time. So, if you're saying that a player can only improve in a game, I would strongly disagree with that. I don't think that's even close to being true in this sport.
Q: I'm saying more from the actual pressure of a game. In practice you can simulate conditions and scenarios, but a game is a game.
BB: Yeah, they're different. I'm not saying they're not different but I thought you were saying you couldn't improve and I don't agree with that. But games are games. That's right. Games are games. Game experience is game experience and that's another way, another part of the process that is part of a player's development.