RED SOX NOTES (53-27)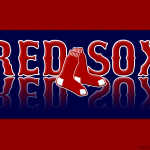 THE RED SOX improved to 53-27, winning their 2nd straight game and 4th in their last 5.
· Have won 9 of their last 14 games…Their last 5 wins have come by a combined 30 runs.
· Improved to 4-0 vs. LAA this season, having out-scored the Angels 36-4 in those games with 57 hits to LAA's 19.
· Have hit 14 HR in 4 games vs. LAA this year…Have scored 8+ runs in each of their 4 games vs. the club, their longest streak vs. the Angels in club history.
· Have recorded 14+ hits in all 4 games vs. LAA this season, tied for the longest streak by any team vs. LAA in franchise history (also CWS in 1979 and in 2000).
· Clinched the season series victory over LAA, just their 2nd season-series victory over the Angels since 2012 (2-4-1).
· In their last 5 games, have scored 39 runs (7.8 R/G) and hit .344 (64-for-186).
· Scored in 6 of the first 7 innings…Sent 10 hitters to the plate in a 4-run 2nd.
· Hit 4 HR, tied for their 2nd-highest single-game total this season…Are 5-0 in 5 games with 4+ HR this season…Had just 2 such games all of last year.
· Are 32-5 in 37 games with multiple HR, having won 19 of their last 20 such games…Their 37 such games rank 2nd in the majors (NYY-38).
· Their 113 HR are tied for their 2nd-most through 80 games in club history (123 in 1977, 113 in 1996).
· Have allowed just 1 run in their last 20.0 IP (0.45 ERA).
· Rank 2nd in the majors with a .684 winning percentage at home (26-12), leading the majors in home AVG (.286) and SLG (.502).
· This is the 4th time in the club's 118-year history they have won at least 53 of their first 80 games, having also done so in 1912 (55-25), 1946 (55-23-2), and 1978 (55-25).
· With 18 games to play before the All-Star break, the Red Sox are 5 wins shy of their first-half franchise record in wins (58 in 2013).
· Have 6 players with 40+ RBI, the most in the majors (Benintendi, Betts, Bogaerts, Devers, Martinez, Moreland).
JACKIE BRADLEY JR. (3-for-4, 2 R, 2B, HR, 4 RBI) recorded 3 RBI hits, including a 2-run 2B in his first AB and a solo HR in his 2nd AB…Drove in a season-high 4 runs, his most since 5/30/17 at CWS (4).
· Is 6-for-7 (.857) over his last 2 games…Marks his 3rd career pair of consecutive games with 3+ hits (also 8/14-15/15, 6/29-30/17).
· Was his 5th HR of the season and his first career HR over the Green Monster.
· Was his 3rd HR of June after hitting 2 through May…Was his first game with multiple XBH since 7/26/17 at SEA (2 2B).
· Is 7-for-14 (.500) with 2 2B, 2 HR, 6 RBI in 4 games vs. LAA this season…Over his last 86 games vs. the AL West, has hit .287 (93-for-324) with 25 2B, 17 HR, and 58 RBI.
· Is batting .381 (16-for-42) in his last 15 games at Fenway Park.
· Is 6 for his last 15 (.400) vs. LHP, after beginning the season 3-for-39 (.077) vs. lefties.
· The Red Sox are 48-22 in games he plays in this season (5-5 in all other games)…Are 53-11 (.828) in his last 64 games with an XBH, including 28-3 (.903) in his last 31.
MOOKIE BETTS (1-for-3, 2 R, HR, RBI, 2 BB) hit the first pitch of the home half of the 1st inning into the Red Sox bullpen for his 20th HR of the season.
· Extended his franchise record with his 15th career leadoff HR, his 4th of 2018 (last 4/25 at TOR)…3 of his 4 leadoff HR this season have come in 4 games vs. LAA (4/17 at LAA off Shohei Ohtani, 4/19 at LAA off Nick Tropeano).
· Has 5 HR in 4 games vs. LAA this season, batting .500 (8-for-16) with 8 runs, 2B, 5 RBI, a 1.500 SLG, and a 2.100 OPS.
· Was his 98th career HR, 14 of which have come on the first pitch, including each of his last 2.
· Was his 3rd straight opposite-field HR after hitting just 4 of his previous 95 career HR to the opposite field.
· Has 9 go-ahead HR this season, and 41 in his career…His 35 go-ahead HR since 2016 are tied for 4th in the majors.
· Has 7 game-winning HR this season, trailing only J.D. Martinez for the ML lead.
· Leads the majors with a .688 SLG, which would be the highest qualifying SLG by a Red Sox hitter before the All-Star break since Ted Williams in 1950.
· Leads the majors with a HR every 11.55 AB (231 AB/20 HR)…Has 7 HR in his last 20 games.
· Has hit 20+ HR in each of the last 3 seasons…Is the 4th Red Sox player to reach 20 HR 3 times before turning 26, joining Tony Conigliaro, Jim Rice, and Ted Williams.
· Scored twice and has scored 60 runs in 60 games…Ranks 3rd in the AL despite missing 14 games from 5/27-6/10.
· Has reached base in 14 of his last 30 PA (.467 OBP), going 7-for-22 (.318) with 6 BB.
CHRISTIAN VÁZQUEZ (2-for-4, R, 2B, HR, RBI) hit a solo HR over the Green Monster in the 5th inning, his 3rd of the season…Added a double in the 7th.
· Was his 10th career HR, the last 2 of which have come on the first pitch…Has 3 2B in his last 5 games and 9 this season.
· Is 14 for his last 45 (.311)…Has driven in 7 runs in his last 17 games after driving in 5 in his first 36.
· Is 9-for-24 (.375) over his last 6 games at Fenway Park, with 3 2B and 2 HR (.750 SLG, 1.150 OPS).