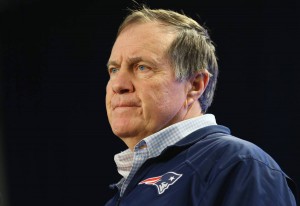 BB: Denver has been an impressive team to watch this week as they usually are. Coach [Gary] Kubiak does a great job. We've competed against him many times and he always has his teams ready to go. Offensively they have a lot of weapons. Defensively they are pretty much at the top of the league in every category. Very good in the kicking game, got a lot of team speed, good specialists, made a lot of big plays on defense and special teams this year. Wade [Phillips] does a good job with that unit as we know and we've seen from him many times. It's kind of the reuniting of a lot of components that were there under Coach [Dan] Reeves back in the 90's with [John] Elway, Kubiak, Joe DeCamillis and Wade. I think the coordinators have kind of changed a little bit of the scheme of the Broncos in the last year or so with still a lot of the great players that they have there. They had I think it was 11 Pro Bowler players last year, most of whom are still big contributors for them now. The scheme has been a little bit different but a lot of familiar faces there in terms of their great players. We know it will be a kind of atmosphere and environment in Mile High, we know what that will look like. So this will be a big challenge for us to go out there and compete and perform well against a good football team that's well coached with a lot of talented people.
Q: What have you seen from Gary Kubiak's offensive scheme this year?
BB: He pretty much runs for the most part his system. Now that's game planned every week, so he modifies it based on what he expects to see from the defensive team, but the foundations are the stretch runs and bootlegs and a lot of formationing. That's all specific to the team that they play. A lot of the core plays, but how they're dressed and how they appear to the defense and what it does to the defensive run force and perimeter defense and spacing, he controls that with different personnel groups and formations and motions and so forth, so he does a really good job with that.
Q: Do you have a sense for how they like to use their cornerbacks?
BB: Man to man. It's not a big mystery. They just get them on them and go. When they bring a third corner in usually it's [Chris] Harris moving inside and [Bradley] Roby outside. Roby played inside last year but it seems like Harris is more the inside guy this year when they go to three corners.
Q: What are the characteristics you look for from your team from Thanksgiving on?
BB: Right now it's really just a one-week season for us. We don't really care anything about last week or next week. It's just about Broncos week. The challenges that we face from this team are numerous and they're very specific, different than we've seen in other weeks and obviously different players and different matchups. It's really just all about focusing on the Denver Broncos this week. We can't do any more than that. That's the best thing we can all do for our team is do well this week, prepare well this week.
Q: What have you seen from Michael Williams this season and who would you compare him to that you've coached in the past?
BB: We don't really have anybody like Mike. Mike has done a good job for us, really smart guy, and he's been able to handle a lot for somebody that hasn't played the position he plays now for three years. He's picked up everything in terms of the protection in the passing game, responsibilities in the kicking game, and he's really good. He makes good adjustments and handles a lot of the small things really easily. He's been great to work with, definitely gives us a different element to that position and it's been good. It's been really good. He's a good teammate, really solid person on the team, very professional with a variety of skills – different from some of our other tight ends – but nevertheless he can do a lot of things.
Q: On the kick to the up-man the other day, what do you look for from the guys that are back there in that position? Read
BB: It depends on what scheme you're trying to run and really what you're trying to do. I'd say they're not all the same. Some teams have big offensive and defensive linemen back there. We've had them back there before. I'd say that's more of a wedge-blocking scheme.